AI Paragraph Rewriter
Paste (Ctrl + V) your content in the input box, then click submit to watch the AI rewriter do the job!
AI Paragraph Rewriter helps you rewrite paragraphs using AI technology. Rephrased articles or reworded paragraphs by a paragraph rewriter tool will provide you with quality content closest to the human level.
What is an Ai Paragraph Rewriter?
AI paragraphs rewriter tool is a tool that helps you spin paragraphs. Technology-based AI paragraph spinner changes or rephrases sentences and paragraphs by altering the sequence of words to generate unique paragraphs. The altered sequence of words and paragraphs improves the readability making it easier for the audience to understand the context.
We all know that today it's the world of customization and optimization. Every business and corporate entity around the globe is driven nowadays by customization principles, for which millions of websites are run over the internet. All this calls for regularly publishing updated, relevant, high quality long form content on the website.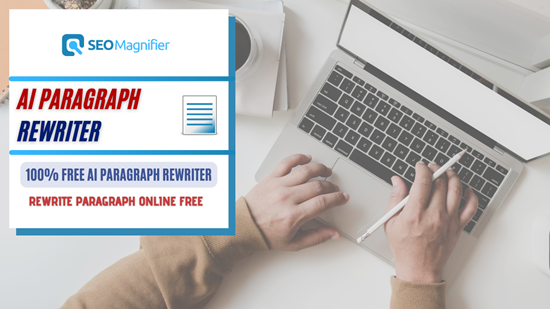 Not only the content needs to be relevant, but it must also pass the specifications of Search Engine Optimization (SEO). In the competitive field of content, producing regulated and large volumes of content is a big challenge.
To address this challenge, experts have developed the AI paragraph spinner. The AI rewrite tool uses artificial intelligence to simplify and streamline ai content creation.
How Does an SEO Magnifier Ai Rewriter Work?
AI paragraphs rewriter is a tool that helps you to write unique and plagiarism free content. The AI-powered tool is based on the basic principles of Artificial Intelligence (AI). The Artificial intelligence of the tool comprehends the meaning of the original text provided in the article for creating unique content.
SEO Magnifier AI Rewriter comprises three major components:
1. Input
As input, the user pastes a paragraph with a specific word limit, e.g., up to 400 words or even lesser.
2. AI Writer
AI performs the rewriting algorithm to rewrite content.
3. Output
The new rephrased paragraph will be generated.
Features of SEO Magnifier AI Paragraphs Rewriter
AI Paragraph paraphraser by Seomagnifier is a significant attraction in the content creation industry. Its significant features include:
AI rewriter helps to create unique paragraphs or make new material from scratch. SEO Magnifier rewriter always writes unique paragraphs and have appeared as a right-hand tool for writers, students, corporate entities, teachers, and anyone who deals with creating excessive content regularly.
There are different languages in the world. People in various parts of the world speak, write, and understand various languages. As a result, our AI paragraph rewriter benefits people worldwide by supporting multiple languages.
You can rewrite the paragraph in languages other than English. Please select the language you want to rewrite the text and start writing with our rewriter.
Paragraph Rewriting Suggestions
Once our tool has finished rewriting text for you, it does not stop here. It will impress you even more because it highlights the words it has rewritten. It will give you rewriting suggestions. You can do it manually if you still want to rephrase more.
Once you have done everything, you can download the rewritten text from the available options.
You can download it in TXT format or HTML format.
Built-In Plagiarism Checker
Every writer wishes for unique and plagiarism free content. Even the AI paragraph rewriter is built to produce plagiarism free content. Hence, you can rely on the AI rewrite tool to rewrite paragraphs.
Once you have rephrased the paragraph using the paragraph rephrasing tool, you can check its plagiarism using our built-in plagiarism checker tool. Just click on the "check for plagiarism" button to check the plagiarism of the rephrased paragraph.
How to Use SEO Magnifier's AI Paragraph Rewriter?
Using the SEO Magnifier AI paragraph rewriter is a simple few steps process based on the principle of input, processing, and output. The following are the basic steps:

Here you will select the specific language in which you want to rewrite paragraphs.

Next, you will copy and paste the text into the input box.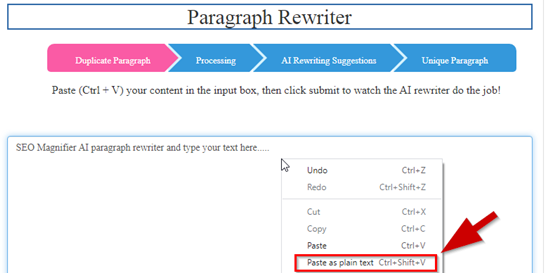 Now press the "rewrite paragraph now" button

The rewritten paragraph will be in front of you after one click.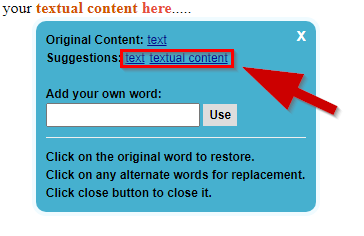 You can also manage the rephrase words according to your own.

Then, using the available options, you can download the file.

SEO Magnifier Ai Rewriter FAQs
What is the best Ai rewriter?
The best AI rewriter depends on your specific needs. If you're looking for an AI-based content rewriting tool with a high degree of accuracy and versatility, I would recommend using AI SEOMagnifier Paraphrasing Tool. It uses advanced natural language processing and machine learning algorithms to produce unique content quickly and accurately.
How do you change a paragraph without plagiarizing?
To avoid plagiarism, it is important to use your own words when rewriting a paragraph. Start by reading the original paragraph carefully and understanding its main points. Then, write down the key ideas in your own words. Finally, use these notes to create a new version of the paragraph that is distinct from the original. Be sure to cite any sources used in the process.
What website rewrites paragraphs?
There are several websites that offer paragraph rewriting services. For example, SEO Magnifier offers professional human-written rewrites of paragraphs or any type of text. SEO Magnifier use AI based rewriting tools to ensure the highest quality results. Another option is SEO Magnifier ai sentence rewriter , which uses an automatic ai paraphrasing utitilty to quickly and accurately rewrite paragraphs for you.
Does Grammarly rewrite sentences?
Grammarly does not rewrite sentences; rather, it provides suggestions for how to improve the grammar, spelling, and punctuation of written text. It can also provide suggestions on how to make your writing more clear and concise.
Seomagnifier's free essay rewriter also comes in the list of popular and highly acclaimed AI rewriters.
Is The Ai Rewriter tool Safe?
In the case of rewrite paragraph tools, one of the essential questions that arise is their ethical orientation. AI Paraphrasing tool is safe because it gives you plagiarism-free content, but you should also consider the ethics. Use these tools for idea generation and professionally rephrasing your initially created ideas for blogs articles, social media posts, or press release.
What Website Rewrites Paragraphs?
There are multiple websites available that can spin paragraphs using an AI paragraph spinner. Seomagnifier's AI Paragraph Rewriter is a tool that rewords paragraphs to write clear and understandable paragraphs. This website will rewrite paragraphs to match the original content or sentence's part of speech, verb, tense, and singular or plural form to add logic and sense to the paragraphs.
What is Better Than QuillBot?
Although QuillBot has emerged as a safe and highly admired rewriting tool yet, there are better alternatives like: