Word Changer
Paste (Ctrl + V) your content in the input box, then click submit to watch the AI rewriter do the job!
Paraphrasing Made Easier! Use the free online Word Changer Tool by SEOMagnifier to rewrite sentences online, paragraphs, essays, and academic as well as business documents in a short amount of time.
What is the Word Changer By SEOMagnifier?
Don't you hate it, when you have to rewrite a piece of writing and you can't seem to find the right words to express the main idea? We've all been there at some point in our lives. Coming up with rich and engaging words is not as easy as one might think.
So, what should you do when you can't get yourself to rewrite or paraphrase a piece of writing?
This is where the free paraphrasing tool and rewriting tools come into play. And the Word Changer Online by SEOMagnifier is the Best one in the business!
Our Word Changer tool will help you rewrite business as well as academic content in an effective yet natural way. The resulting piece of writing that you get from this tool would be as good as what you get with manual rewriting.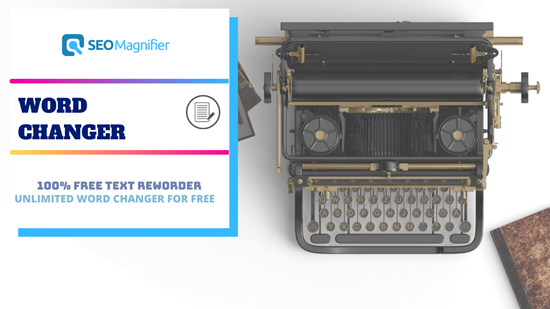 This tool uses its advanced Ai technology to find interesting words and phrases to rewrite the text you put in it. It takes the pressure of rewording content of your shoulders so that you can focus on what you do best. Save your time and energy by leaving the job of rewording to our free online Word Changer tool.
Free Online Essay Word Changer
If you are looking for a free to use essay word changer, then this is the tool for you. The best free ai rewriter by SEOMagnifier is free for everyone!
Whether you are a student looking for the best way to rewrite your assignment or a freelance writer who wants to come up with engaging content on a regular basis, this is the tool for everyone. And the best part is, it doesn't ask you to pay anything for the use and there is no limit to the use of this Word Changer Online.
How does the Paragraph Word Changer Work?
This tool uses its efficient artificial intelligence-based algorithm to decide on the words to use for your piece of writing. It understands the context in which the article is written and on the words that can be replaced with better and more engaging ones. Once the tool is done analyzing the content, it starts the rewording process. The entire process takes about a minute or so, although it can change depending on the length of the content.
Write Plagiarism Free Content with the Sentence Changer Online
Plagiarized content can get you in a lot of trouble. If you are a student, plagiarizing content can affect your grades and if you own an online business, plagiarized content can get your website penalized.
You can avoid plagiarism in your piece of writing using the Word Changer online tool. Just add in the content in this tool and it would give you unique content that would be 100% plagiarism free.
How to use Word Changer Online?

Copy and paste the text into the box.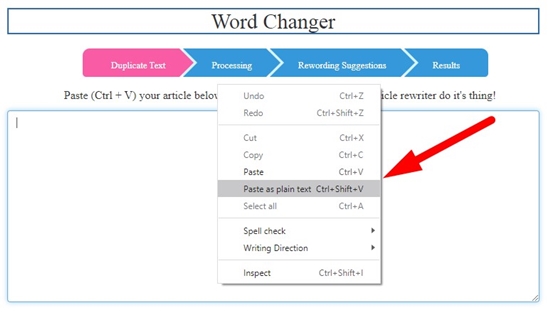 Select your favorite language.

Click on the "Reword now" button to start the rewording process.


Wait for the tool to finish rewording.

You'll see the reworded content in the next text box and download using the download button.

You can use the "Try New Document" to change another document for rewording.

You can analyze your document for plagiarism using the "check for plagiarism" option.

Benefits of Online Word Changer
Best Tool for Rewiring SEO Content: Coming up with SEO-friendly content can take up a lot of time. And since fresh content is one of the ranking factors, you need new content to get better ranking on search engines. This is what the Word Changer can help you with. Use this tool to come up with new and unique content based on existing ideas, on a regular basis.
Reword Academic Documents with this powerful tool: For students working on different assignments, papers and reports, this tool can prove to be quite valuable. Use the features of this tool to reword any type of academic document that you want. This tool can also help you rewrite thesis and even entire books. This paraphrasing tool will be your ultimate rewriting and paraphrasing assistant.
Overcome Writer's Block, Find New Words to Write your Ideas: If you have hit a writer's block and you are finding it hard to write creative piece of writing, you can take the help of this tool. Just add in your basic draft or idea in this tool and see the words and phrases that it comes up with. You can use those words to take the effectiveness of your writing to a whole new level.
Best Free Essay Rewriter in the Market: Unlike most free rewording tools in the market, this Word Changer uses Ai to decide the words to use to rewrite the content in a human way. It is the best in terms of paraphrasing performance as well as the user experience.
Easy Rewording Experience: This tool is easy to use for everyone. It is especially recommended for beginners who have no idea how rewording tools work. With the easy to use design of this software, rewriting essay online and articles is now easier than ever!
SEOMagnifier's Word Changer FAQs
What is word changer and how does it work?
Word Changer is an online tool for rewriting academic or web content. This tool helps its users come up with new ways to express an idea. It uses Ai based algorithm that understands the context of the writing and then replaces the words in it to make the writing more engaging.
Why do you need to use the word changer tool?
When you need to rewrite essay online, reports, or any kind of document, you can use this tool to save time on manual rewriting.
What is the best word changer online?
The Word Changer online by SEOMagnifier is the best tool in the market! It changes the content in a natural way, unlike most rewording tools that destroy the natural tone of the content.
How can I reword an academic article into an interesting book?
You are going to need a rewording tool for this purpose. In order to avoid plagiarism, you can use the Rewording tool by SEOMagnifier to rewrite the academic article which later on can be converted into an interesting book.
How to rewrite SEO content fast?
Essay Rewording or Paraphrasing tool by SEOMagnifier can be used to rewrite SEO Content fast. This tool delivers the best rewriting performance in a short amount of time.