Essay Rewriter
Paste (Ctrl + V) your article below then click Submit to watch this article rewriter do it's thing!
Free Article and Essay Rewriter Tool by SEO Magnifier make it easier for you to generate unique content, paraphrased in a natural tone and quality content format.
What is Essay Rewriting?
Whether you are a university student or a freelance writer, coming up with unique words and phrases to express your ideas and opinions is probably the major part of your day. It doesn't matter whether the idea that you are trying to explain is yours or someone else's, you need to word it in a way that makes the content engaging and still includes your own personal flavour.
This is what the process of essay or quality article writing is all about. It is the honest expression of your knowledge and the things you know, in an effective way that grabs your reader's attention.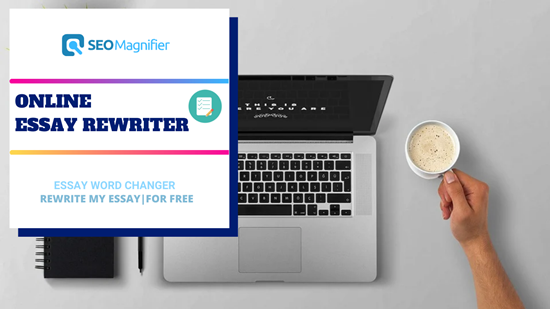 But as you probably know, coming up with new and engaging content is not always easy. It can get quite difficult sometimes and if you are on a deadline, it can put you in a whole lot of mental pressure.
This is where Essay Rewriter Tools come into play.
When you already have textual content that you have to rewrite, but you can't seem to reword it properly, or you don't have enough time for paraphrasing, Article Rewriter Tool by SEO Magnifier is the tool for you.
Just put your Essay in the Tool and it would rewrite the entire content using rich and engaging words phrases and sentences.
Easy to use Essay Rewriter by SEO Magnifier
Our AI-powered Essay Rewriter Tool contains a massive library of words and phrases that it uses to convert standard content into engaging one. You don't have to spend hours thinking about ways to reword your content. Just put the content in the tool and let it take care of the rest.
Most free Essay Rewriter Tools are just bad at rewriting content. They remove plagiarism online from the content, but the resulting content doesn't look natural and of high quality.
There are no such issues with our free Essay Rewriter. It is designed with powerful algorithms that understand an Essay first before they go on and paraphrase it. Once our tool is done analyzing the content, it will convert words with their synonyms while maintaining the natural structure and tone of your content.
Create Unique, Rich, Highly Engaging, Well-Crafted and Plagiarism Free quality content with our free Essay Rewriter Tool.
Why Do you Need an Essay Rewriter Tool?
When you Face Writer's Block
If you are having a hard time coming up with words and phrases to express your content engagingly, this tool can go a long way for you. It will act as your writing assistance when you hit writer's block. Just type in the rough draft of the text that you have in mind; the tool will process it into something amazing with its smart paraphrasing features. It contains a massive library of rich words which makes this tool worthwhile for writers.
When you are on a Deadline
When you must write a lot of unique words and you don't have enough time to do it manually, you can use this tool to paraphrase content from some other online source. It will save you a lot of time. Again, writing by yourself is the best thing to do, but if you can't make time for it, using this tool is your best option for coming up with unique and plagiarism free content.
Great Tool for Freelancer Writers
Freelance Writers have a massive workload these days because of the huge number of sites that are coming online every day. If you are a freelance writer and you are finding it hard to create unique content for stuff like blog posts daily, using this tool can give you unique content writing ideas that you can incorporate in your actual content. Also, search engines prefer quality content and rank a site base on this factor.
SEO Magnifier Essay Rewriter Tool is The Best – Here is Why?
We have designed this tool in a way that makes it easier to be used by all writers. Whether you are a professional writer or a beginner just getting started with essay writing, this tool can go a long way for you.
This tool is AI-based and tries to replicate the paraphrasing methodology of a real human being. It increases the search engine exposure of your content in terms of quality. This is why people all over the world are using this tool. The rewiring performance of our Article writer is off the charts.
This tool comes with a simple to use Interface and would be quite simple to use for everyone.
Benefits of Online Essay Rewriter
Free to Use: This text spinner tool is free to use for everyone. You don't need to register yourself on our website or set up a monthly payment plan for using this tool. It won't ask you for your personal details. Just visit the Essay Rewriter Tool and start using it without any prior authentication.
No Installation Needed: This tool is a web app and doesn't need to be installed on your PC for use. You can use it on your PC as well as on your mobile phone. You just need a device with a web browser and an active internet connection for using this tool.
User-Friendly Interface: The user interface of this tool has been kept simple and easy to use. This tool is not only for freelancers and webmasters; even students and teachers can use this tool to create unique content in a short amount of time. The friendly UI makes this tool a great choice for Essay Rewriting Software for everyone.
No Usage Limit: There is no usage limit for this tool. Unlike most free Article Rewriters, the use for this free tool is unlimited. Use this tool at any time of the day. The precise article rewriter tool is always here to serve you regularly.
Fast Cloud Processing: This cloud-based essay word changer delivers efficient performance. We have tested this tool under different network conditions, and it worked just fine, even on slow networks. And once the cloud processing is done on your content, we instantly delete it from our servers to maintain your privacy.
How to use Essay Rewriter Tool?

Copy & Paste your Text in the Tool.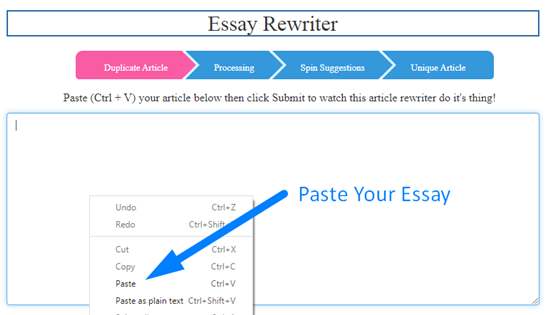 You can also upload a Word file.


Wait for the tool to finish processing.

The rewritten content would be shown to you.

Copy or download the content file by the download button.

SEOMagnifier's Essay rewriter FAQs
What is the best essay rewriter?
Essay Rewriter Tool by SEO Magnifier is the best essay and sentence rewriter. This tool is free to use and features a rich database of words and phrases that it used to rewrite the content.
What is the website that rewrites essays for you?
SEO Magnifier features a wide array of Essay, Articles and sentence rewriting and online paraphraser tools that you can use to rewrite any content with ease.
How do you reword a paper?
Please copy the text of the paper and paste it in our Essay Rewriter tool and hit Enter. The paper would be reworded richly and naturally.
Is there a program that will reword a paragraph?
The Essay Rewriter Tool by SEO Magnifier will help you reword a paragraph with ease. Use this tool to paraphrase a paragraph or a complete essay with ease.
How to use the Essay Rewriter Tool?
First of all, generate an article from our article generator tool and then copy and paste the content or readable text that you want to rewrite in this article spinning tool, and it will take care of the rest for you.