Paraphrasing Tool
Paste (Ctrl + V) your article below then click Submit to watch this article rewriter do it's thing!
Welcome to SEOMagnifier's online paraphrasing tool that helps you to paraphrase sentences, articles, essays, assignments, research papers and web contents online.
SEO Magnifier Paraphrasing Tool Support The Following 7 Language: English, Dutch, French, Spanish, German, Turkish and Indonesian.
It's super-fast and can be used without spending a single penny and without getting plagiarized. Paraphrasing which is done by many professionals nowadays is a fascinating thing to do to get the desired contents within no time. There are tons of free article spinner tools available online like spinbot, online sentence rewriter but it is the one on which you can trust and get plagiarism free essays, and it is due to its fantastic feature of having millions of synonyms. Now let's discuss in detail about rephrasing tool.
What is paraphrasing?
According to the Cambridge dictionary, Paraphrasing is taken to be one of the most important parts of the English subject! The paraphrase is all about adding on to the ideas and information from the original side of the sources in your paper.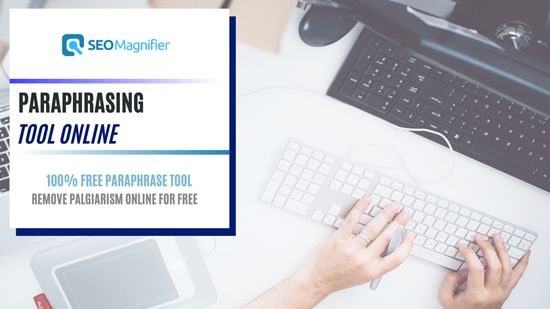 You will be rephrasing with those ideas and so as the information into your own words. One of the best successful ways of rewriting is all about using few of the words as much as possible in the original text. You should make sure that you do not bring about with any sort of changes in the whole meaning of the paraphrased context which you have been thinking about to convey as you will be rephrasing out.
How to paraphrase using SEO Magnifier best paraphrasing tool 2022?
1. First of all, Go the article paraphrase tool page select the language and copy and paste the text below in the box like.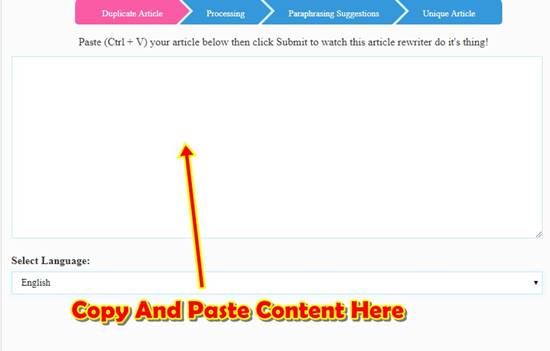 2. Hit the paraphrase button.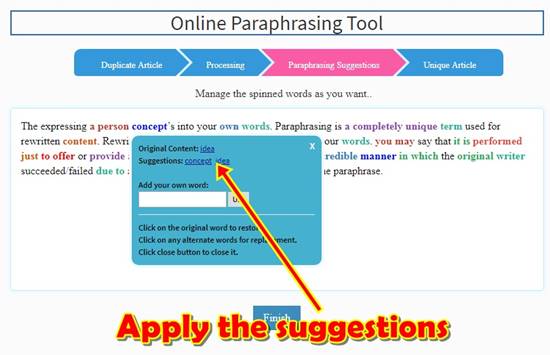 3. Apply your favorite synonyms.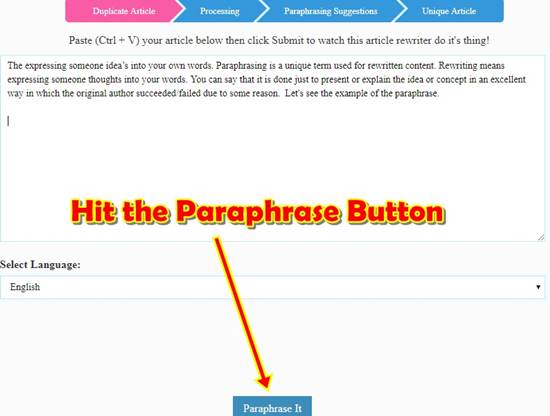 4. Now Check for the plagiarism.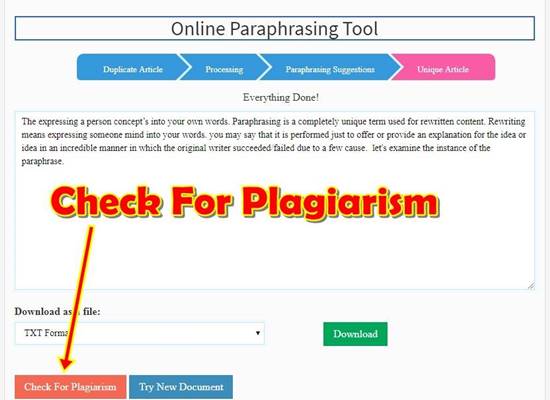 5. Download the paraphrased file and that's it.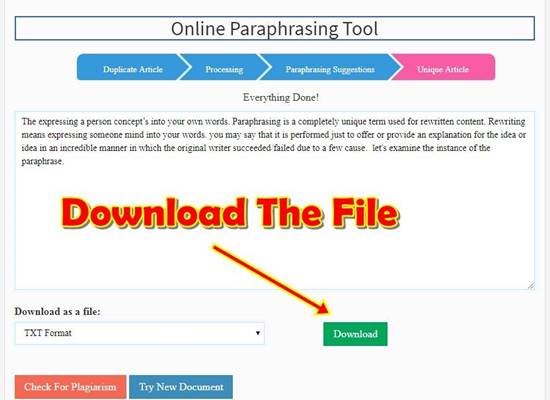 Pros and Cons of Online Paraphrasing
Pros:
Paraphrasing the contents provides the best chance to increase your knowledge about the topic you are rewriting. Understanding about the subject grows when someone writes about it into in his words.
Rewriting the contents into own words is flexible for the future instead of a Quotation. It is so because you do not need to remember the original words all the time. You can write about the topic effectively when you have the basic concept of it.
In rewriting a text you can use less number of the words than original for your ease.
When you use the reword generator tool or article rewriter online to generate content for you then you will be able to get your required document without spending any money and time because it is a free tool to use.
Cons:
Paraphrasing is a tough job to do as you need to be very careful while rewriting any content. The original meaning of the text can be changed unwantedly and maybe you will not notice the change you accidentally made.
Use of Quotation is the best way instead of rewording. If the original text is precise, clear and well explained, then it is better to use it without any changes for the purpose to let the writer express his feelings into his words.
SEOMagnifier's Paraphrasing Faqs:
How to Paraphrase the assignments effectively?
The followings are the 7 steps to do rephrasing effectively. Follow them and get the best article.
Read the original text again and again until you get the complete understanding of what writer want to say in it.
Now kept the original aside and rewrote it into own words and make notes.
Write keyword or paraphrase on the top of note board that will indicate on what you are writing. Also, keep some words in your mind that will help you in the rewriting of the article.
Now compare your rewritten material with the original one to make sure that you have accurately expressed the theme of the writer in your writing and explain the old idea in a new way.
Use Quotation marks for the original words you took directly from the source to make your content more useful.
Record the source on your note card and use it for giving credit if you want to include his material into your text.
These are the steps to rewrite an article efficiently and make it plagiarism free article.
Why you shouldn't do Paraphrasing?
Paraphrasing is the cheapest way of using the tool to get high-quality content to publish on the internet or to submit an assignment in the University/College. It is the tough job to do if someone did this on its own because there are a lot of chances for the contents to get plagiarized. There are many reasons due to which this can happen but the biggest one is the human error and rest may include less knowledge about the topic. Use this tool presented by the SEO Magnifier to avoid all the mistakes. It will also let you save the time and money as well.
Things you need to do rephrasing personally:
If you think that you are good enough to do rewriting a text into own words than keep in view the things which are listed below:
Good English
Know to make to article free of plagiarism
Knowledge of synonyms of originals words
Should be good in creative writing because a person who knows how to give a new idea to people can do this jobs efficiently.
How to paraphrase a Quote Using SEOMagnifier?
Paraphrasing is basically known as the concept where you will be putting the ideas over the author into the own concept of the words. It would be helping you away in the improvement of the quality of the paper all by means of explaining another person's thoughts in your own writing style, and also in the range of improving the flow and readability. If you want to paraphrase the quote, then you should be adding the statement to be in your own words.
If you are using any kind of phrases that are in the original quote, then you should place them in quotation marks. You should be adding the citation even though if you hence paraphrase according to Wikipedia it in your own words, and hence it is still someone else's idea. If you do look into any kind of difficulty paraphrasing, then you should consider as to make a shortlist of the quote's main idea(s) and words that are in relation to it. You should be incorporating the concepts and words in your paraphrase.
How to paraphrase MLA?
No doubt that paraphrasing is one of the trickiest things to do so. You have to make sure of fact that you are not at all copying the original content of the author style or any sort of the wording in it. Even though if you have the citation, then it would be considered out to be the source of plagiarism for you. Paraphrasing should be done through the use of such sentences and the structure of words that the writer would make it known as your own work. If you want to make sure the fact that you are not plagiarizing on the unintentional mediums, then you should collect some main points of the sources. Then you should paraphrase the whole content without giving a look at the original content. As you are done with the paraphrasing, you can compare your written content with the original content. You can change the meanings of the words into simple words.
Is it Helpful to use the Paraphrase tool?
Yes, it is because following the steps as mentioned above to paraphrase an article is a very difficult job. One can make a mistake at any stage during rewriting. It is useful to use to get the required contents in no time without investing any money.
This tool is very helpful for professional writers that use it to write assignments, essays, and articles. Paraphrase generator from the team of SEO Magnifier is very practical to use, and this tool works very carefully and quickly.
If you are worn out by hiring professional writers or by writing an article by own, then it's time to use this fantastic tool to get best articles.
It will provide the textual content that will allow your article to rank on the first position in different search engines like Google, Yahoo, and Bing. You don't need to hire expensive writers and waste your money, only take a good quality essay from our essay rewriter online and use this tool to rewrite it and get what you want.
The content you will get using this gadget will be attractive to the audience and users will love to read them. This will ultimately increase the followers that lead to a big fan following worldwide.
How much it worth to use this tool?
It is not essential to use this tool for rewording if you are good in writing and know well how to rewrite a useful article. The tool is specially designed for the people who are poor in English and for those who do not know how to write quality contents.
This content rephrase tool is also best for the professional writers as it will help you to increase vocabulary and synonyms.
Is this tool provides plagiarism free content?
Yes! It is. This paraphrase tool contains millions of synonyms due to which this tool can provide the plagiarism free work. But always go for the plagiarism checking by using our powerful online plagiarism checker tool.
The following are some suggestions that help you in creating best contents for you.
Start with the quality contents
Read carefully the paraphrased text.
Check for plagiarism.
Never rewrite the same article for multiple time to maintain the quality of the contents.
The 4 Instances You Consider While Using SEOMagnifier's Best Paraphrasing Tool
The online paraphrase tool helps you change words in an article according to its synonyms so at the end you have a meaningful and unique article you can use without worrying about plagiarism. It basically helps you rewrite the article without having to put in the effort that comes with writing from about the topic from scratch. It is a tool that may not be that helpful to people who wish to understand a topic better through in-depth research or those with a wish to put in their preferred writing style in it but it can prove to be helpful in given situations. So when can you use the tool and enjoy what it can do for you?
1. When no time to go into research and write from scratch
If time is not on your side and you need to submit your articles or essay quickly, then the rephrase tool can prove to be very beneficial. Some of the writing tools work in a matter of seconds. You can, of course, rephrasing the work manually, but then again that would take time, hence why the tool is a better option in this kind of situation.
2. When you are not confident about your English
Not everyone is good in English and since you do not want to end up with a cheap English essay or one that lacks flow and does not make any sense, the tool can help you get a quality piece in the end. The paraphrase tool will help you get a professional high-quality article that will impress everyone, however poor you feel you are in English. It saves you the struggles that come with the language, especially for those who are not native speakers.
3. When you have no money to hire a good writer
One of the best ways of getting good quality work is by getting professional writers to do the work for you. They do extensive research on the topic and put together pieces that are meaningful and original. However, you also have to pay the writer you choose. Whereas there are so many writers out there, hiring a good one can cost you a reasonable amount. In this situation, you can try the rephrase tool.
4. When you are not very familiar with the topic
Some topics can be complex to understand, especially technical ones that you simply can't grasp with a few reads. With a rephrase tool, you only need to choose the best professionally done article on the same topic and let it rephrase it for you so you have an original without stressing too much about the complexity of the topic. You must, however, ensure that you choose the best paraphrasing platform that does rob the piece of its meaningfulness as far as the topic goes.
Other Services offered by the SEOmagnifier: You can also try our many other tools to make a successful blog. You can also use the online article spinner to get high-quality content on any topic. You can also use SEOMagnifier's online plagiarism checker to check any document for plagiarism. You can also try out the other SEO services by SEO Magnifier and you can access all of them for free. For further detail contact us through email or inbox us.
Note: If you don't satisfied with this tool, then let's try other tools at the SEO Magnifier which is the most reliable and useful ever.