Alexa Rank Checker
Enter a URL
Welcome to our free Bulk Alexa Rank checker tool. With this tool, you can check Alexa ranking for multiple domains with one click. This tool will tell you the domain's popularity as compared with other popular sites in the world as well as the overall traffic on the sites that you have entered here. Bulk Alexa Rank Checker tool makes it easier for you to keep tabs on your competitor's Alexa rank so that you can come up with strategies to outdo them.
What is Alexa Ranking?
Alexa Internet is a California based web traffic analysis company. Their Alexa ranking services tell you a website's popularity over the internet. This tool ranks millions of sites in terms of their popularity. The information that you get from this site, about the popularity of a particular domain, can be used to optimize and enhance your website ranking efforts.
What is Alexa Rank Checker Tool?
Although the official Alexa Rank checker tool is quite popular, it can only process 1 website at a time. Which means that it would give you the traffic and popularity details for a single website. Now, it makes things quite hectic for you when you have to analyze multiple sites.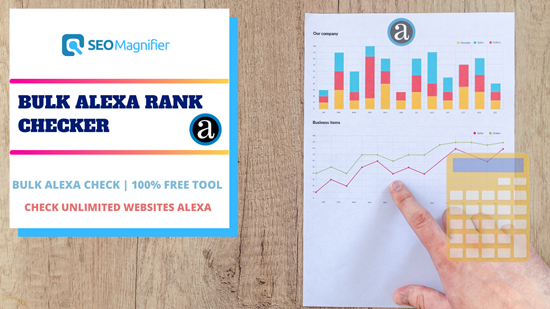 This is where the Bulk Alexa Checker by SEO Tools comes into play.
This tool allows you to check the Alexa Rank for multiple domains at the same time. Simple just add in the URLs of the sites that you want to analyze, and the tool will give you the complete details about all these sites.
How to use SEO Magnifier Alexa Rank Checker?
This rank checker tool is simple to use. The user interface is fairly self-explanatory but still, here is how you can use this tool.
First of all, select the Alexa rank checking tool.

Add in the URLs of the Domains you to want to analyze

Click on the submit button

The tool will show you the Alexa result popularity of all the domains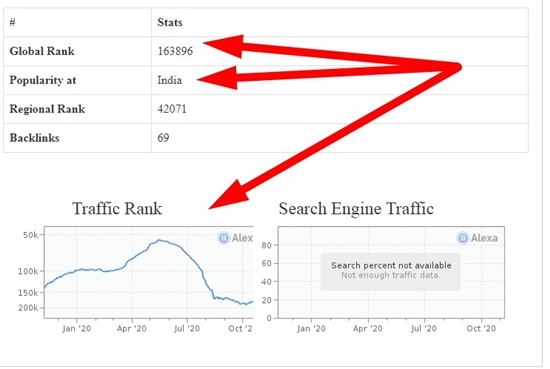 Click try new URL to analyze another website.

This tool won't work for expired domains
Features of SEOMagnifier Alexa Rank Checker
Free Tool: Check Alexa rank for free with this tool. It is one of the most important SEO tools that can be used for competitor analysis. And it's been made available for free here by SEO Magnifier.
24/7 Availability: This website traffic and popularity analysis tool is available 24/7. It can be used on mobile devices as well, for check the domain authority of a site.
Accurate Results: The ranking system of this free Bulk Alexa rank checker tool is based on robust metrics. Its results are accurate and would give you the best possible estimation of your website's popularity over the internet.
Efficient Performance: This tool delivers super-fast performance which is entirely accurate. The tool loads up fast and works and gives you the complete information including the domain authority for a site.
No Registration Needed: This Alexa ranking checker tool doesn't require registration. It is a free search engine optimization tool for analyzing the competition and similar to the google keyword rank checker.
SEOMagnifier Alexa Rank Checker FAQs
How do I check my Alexa ranking?
You can use our free Alexa Ranking checker tool for this purpose. This tool can handle multiple domains at one time.
What is Alexa rank?
Alexa rank is the measure of a site's popularity as compared with most popular sites in the world. It tells you how a site is doing as compared with its competitors.
What is the number 1 Alexa rank?
Number 1 Alexa rank tells you about the site that is currently the most popular. Generally, Alexa Rank under 1 million is considered to be quite good for a new website. So as an SEO expert, your goal should be to get your site under million on the Alexa Rank checker.
How do I know my blog ranking?
You can check your blog ranking using the Bulk Alexa rank checker tool. With the free bulk Alexa rank checker tool by SEO Magnifier tools, you can learn all there is to learn about the general information about your site.
How to use the Alexa rank checker?
Bulk Alexa Rank checker by SEO Magnifier is simple to use. You just need to add in the URLs of all the domains in the tool and it would take care of the rest for you.