Binary Decoder
Convert Binary to Text / English or ASCII Binary Translator. Enter binary numbers (E.g: 01000101 01111000 01100001 01101101 01110000 01101100 01100101) and click the Convert button
Binary decoder/translator is a free online binary to text conversion tool that will help you convert long binary strings to plain English text with ease. Just add in the binary that you want to convert, and the tool will take care of the conversion process.
What is Binary Decoder?
All the computers and digital electronic devices run on Binary numbers. These devices don't understand numbers in the same way that we humans do. It is much easier for machines to process information in the form of 0s and 1s.
This is the reason why the entire digital computing architecture is based on binary numbers. Digital Text, Digital Media like images, videos and any other form of data is stored and processed by computers in the form of 0s and 1s.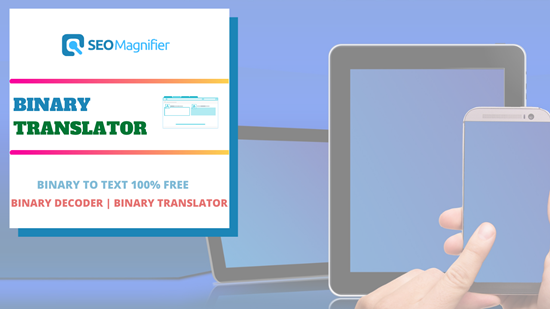 In the same way machines can't understand how humans perceive numbers, it is quite difficult for humans to manage large numbers of binary data. Even though it is not impossible, it is quite difficult to process binary information manually.
This is why you need the binary code translator tool.
We have developed the best binary-to-text converter tool to help you convert binary numbers to their English representation. You don't have to use the Binary to ASCII text conversion table anymore, use this tool and convert any binary number that you want to.
Best Online Binary Code Decoder at your Service!
Binary Translation Made Easier! The free binary code translator by SEOMagnifier is one of a kind in that it allows you to convert binary to plain English in a fast, accurate and effective way. We have optimized this tool to work well on all kinds of devices. There are multiple enable input options offered by this tool. You can type in binary, upload a file or copy and paste to input data for processing.
Why use a binary decoder online?
The binary decoder's output can be used for multiple purposes. At the most basic level, you'd be able to learn what a binary message is saying with this tool. No matter how unique outputs you are looking for, this tool will do the conversion and give you the output that you want.
Converting binary inputs to their English representation manually is not an easy job. When you convert each character manually, it can take a long time to translate a complete sentence.
You can use our tool to convert binary to English instead. The user of this tool is super simple, anyone can do this without much hassle. You'd easily get the output codes with the free SEOMagnifier Binary to Text Translator.
How to decode binary code online? [Step By Step]

Type in the binary numbers in the text box.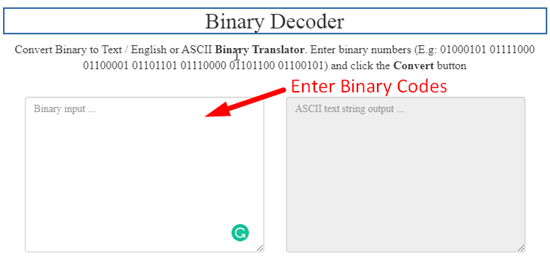 You can also copy and paste binary code.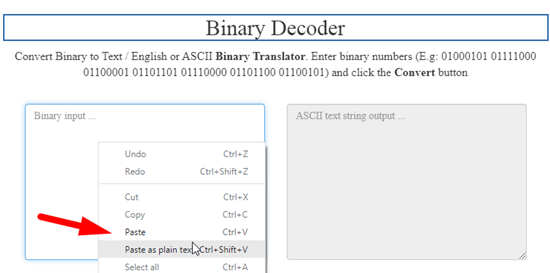 Click on the convert button to start processing.

The tool will give you the results using ASCII codes or UTF-8 Unicode [Optional]. You can copy and use the output line as per your requirement.

Click on the reset button to decode another binary code to text.

Features of SEOMagnifier Binary Decoder
No Registration Needed: There are many different types of decoder tools out there, ours is free to use and doesn't ask you for signup or registration. This tool takes in data input and converts it automatically in just a few seconds. It is the best segment decoder that can be used without any kind of hassle.
No Fees or Hidden Charges: This binary code translator tool is absolutely free to use by everyone. You can add in any number of input lines or combination of input and the tool will take care of the conversion process for you. It is the best free binary to text converter and the reciprocal of the text to binary converter that you can find out there.
User Friendly Binary Converter: This binary converter comes with a user-friendly design for the interface. It is an easy to use binary translator which is recommended by a huge base of users. It has a decent UI design and the conversion features are simple and easy to use.
Super-Fast Binary to Text Converter: The binary to text conversion speed of this tool is extremely fast as the binary calculator online. In fact, it is one of the fastest binary translator tools that you can find out there. So, if quick performance is what you are looking for, then you must check out the Binary to Text converter by SEOMagnifier.
Features Support for Multiple Platforms: This tool works on PCs, Tablets, Laptops as well as mobile devices. It features support for all the mainstream operating systems and web browsers.
Safe and Secure Binary Numbers Translator: This tool is perfectly safe and secure to use for all devices. It can generate output codes for binary messages and will help ensure the privacy of your personal information.
SEOMagnifier's Binary Decoder FAQs
What is binary code decoder to English?
Binary decoders are online tools that allow the user to convert a binary string to its English representation. There are free as well as paid online binary decoder tools that you can find out there.
What is the best Binary Code Translator?
The Binary Code Translator by SEOMagnifier is the best binary code converter that you can find out there. This tool is fast, simple, accurate and safe to use. The UI of this tool is simple and catchy which makes the tool easy to use.
How to convert 01000001 binary to text?
In order to convert 01000001 to binary, add this number in our free tool and click on the convert button. The tool will give you the result that corresponds to this binary number.
How to decode Binary to Text?
The Binary Code Translator tool by SEOMagnifier is your best choice for decoding binary to text. This tool converts long-length strings of binary to text in a few seconds, depending on the speed of your internet connection.
How to convert Binary code to English?
You can use our tool to convert Binary Code to English in an easy way. Add the binary code in our tool, click on convert to start processing and that is it. The result would be shown to you in an instant.