Privacy Policy Generator
A privacy policy can give you a better understanding of how your private information will be handled by a given website. It can also help you make an informed decision about whether yes or not to use that website.
However, it's important to keep in mind that privacy policies can differ extensively from your site to another. So, even if a website has a privacy policy in simple to read place, it's always a good idea to take some time to read through it before providing any personal information.
What is Privacy Policy?
A privacy policy is a statement or document that outlines how a website/company collects, uses, stores, and discloses personal information. It explains an individual's rights in relation to their personal information.
Well, if you're a merchant, developer or blogger, you'll probably be going to use a privacy policy page for any of your purposes. Writing a privacy policy can be time taking, so why not take a shortcut and use a highly recommended tool?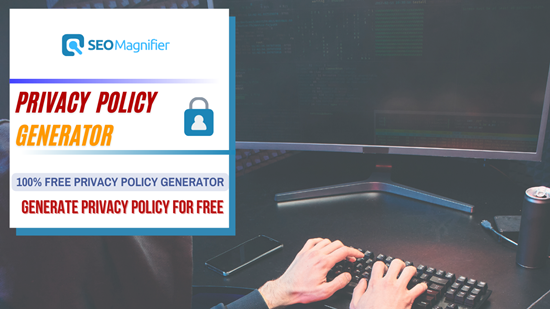 The tool you're come through, "Free privacy policy generator," It will help you create a policy tailored to your needs. Plus, it's free to use! So what are you waiting for? Let's start to generate your privacy policy page today!
Before starting, let's give you an idea about another most advanced and highly recommended online rephrasing tool which also gained a lot of popularity within a few past months.
Do I need a privacy policy if I do not collect data?
No, you do not need a privacy policy if you do not collect data. However, if you ever do decide to start collecting data, you will need to create a privacy policy that complies with the law. The best way to do this is to use a free privacy policy generator tool.
There are a number of online tools that can help you generate a privacy policy for your website or app. Some of these tools are free, while others charge a fee. The best way to find a privacy policy generator that suits your needs is to search for one that offers a free trial or a money-back guarantee.
This way, you can try out the tool before committing to it. Once you've found this privacy policy generator that you're happy with, simply follow the instructions on the website to generate your privacy policy. Be sure to read over the generated policy carefully before publishing it on your website or app.
How do I create a privacy policy for website or app?
If you're looking to create a privacy policy for your website or app, there are a few things you'll need to keep in mind.
Likewise, you'll need to decide what information you collect from users and how you plan to use it. Once you have that figured out, you can use a privacy policy generator tool like ours, the "Free privacy policy generator tool," to create a custom policy for your site or app.
When creating your privacy policy, be sure to include the following information:
What information do you collect from users?
How do you plan to use that information?
Who has access to the information?
How users can opt-out of having their information collected
What happens if there is a change to the policy?
Creating a privacy policy doesn't have to be complicated or time-consuming. With given "Free privacy policy generator" tool, you can create a custom policy in minutes that will help ensure your website or app is in compliance with data protection laws.
How to use "Free privacy policy generator tool" of SEO Magnifier?
Using this tool is quite easy, and there is no rocket science to understand. Before taking a slight start, we must recommend you use this tool for "legal advice" or privacy policy – for "terms and conditions" you can use another available tool out there.
Well, let's see some basic steps to understand how this tool actually works, similar to another "sentence rewriter tool".
1. Once you get enter in the SEOMEGNIFIER then you can choose the Free privacy policy generator tool https://seomagnifier.com/free-privacy-policy-generator – click it simply to generate your page.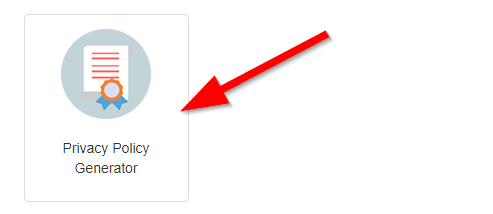 2. You'll see the main tool with some blank areas where you have to fill right information; Your Company Name, Your Website Name, and Your Website URL.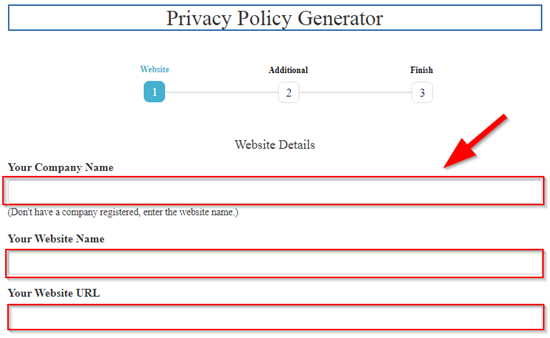 3. Once you put the details, please press "Continue to the Next Step."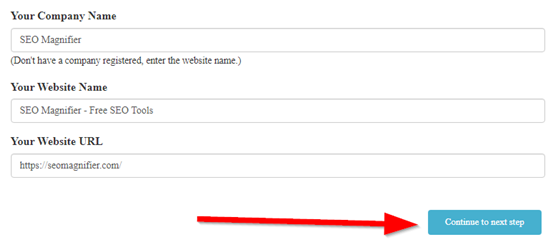 4. After that, please confirm additional information with (YES or NO)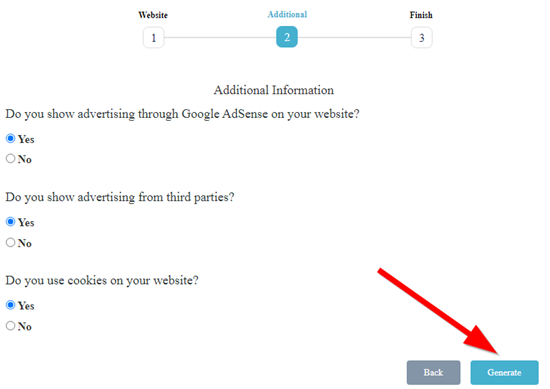 5. Once you are all done, simply press the "GENERATE" button, and yes, within a couple of seconds, your privacy page will be generated with the accurate layout and wording.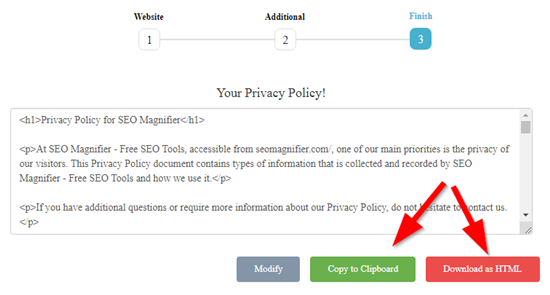 Please note: Privacy policy tool is highly recommended for both individual and business blogs, or you can use it for apps' and games' privacy policies.
SEO Magnifier Privacy Policy Generator FAQs
These faqs are especially merged here to give you additional info.
Can I write my own privacy policy for my website?
Yes, you can write your own privacy policy for your website. However, we recommend using this free privacy policy generator tool to create a professional and legally binding policy. The tool will save you time and ensure that your policy is compliant with data protection laws.
We don't collect any personal data while making your privacy policy. Within this tool, we have a good range of other valuable SEO tools like online plagiarism remover for you.
Where should I put my privacy policy on my website?
Most website owners put their privacy policy in the footer of their website so that it is easily accessible to visitors. However, some website owners choose to put their privacy policy in the header or sidebar of their website. Whichever location you choose, make sure that your privacy policy is easy to find and understand.
For games and apps, the majority of developers would like to place their privacy policy on a particular page. Now it is all as per you who type of digital source you have and where it should be put.
Is this SEOMagnifier privacy policy generator tool free?
Yes, absolutely; by the name, you can easily conceptualize that we don't charge a single penny for using unlimited times.
How do I create my privacy policy page for free?
Well, creating a privacy policy is now very simple – you just have to use this most advanced tool, and we're very sure within a couple of seconds, your privacy policy generator will be generated without any hassle.