| | | | |
| --- | --- | --- | --- |
| a | ا | b | ب |
| p | پ | t | ت |
| T | ٹ | C | ث |
| j | ج | c | چ |
| H | ح | K | خ |
| d | د | D | ڈ |
| Z | ذ | r | ر |
| R | ڑ | z | ز |
| X | ژ | s | س |
| x | ش | S | ص |
| J | ض | v | ط |
| V | ظ | e | ع |
| G | غ | f | ف |
| q | ق | k | ک |
| g | گ | l | ل |
| m | م | n | ن |
| w | و | o | ہ |
| h | ھ | u | ء |
| i | ی | y | ے |
Urdu Keyboard Online is an easy to use Urdu Keyboard that allows you to write Urdu online in an easy and simple way. This tool offers you an on-page layout for writing Urdu online and you can use it without having to install any kind of additional keyboard software on your PC or phone.
Why use an online Urdu Keyboard?
Typing Urdu using a traditional Qwerty keyboard is nothing less than a hassle. It is time-consuming to keep track of what key on the keyboard corresponds to what Urdu character and typing in this way can even get extremely annoying at times.
This is where the Urdu Keyboard Online comes in! This tool makes it completely simple and easy for anyone to write Urdu online without Installing a new Software or needing to learn a new keyboard arrangement. Using this tool, anyone can write whatever they want to in the Urdu language.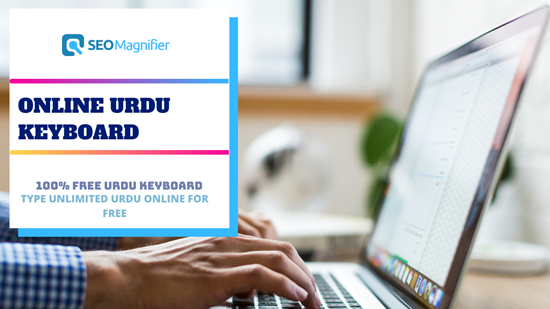 The interface of this tool features a text area and below it is a table of all the Urdu characters. You can click on the characters to write the words that you want to write. The text that you enter using the Urdu characters would show up in the text box. From there, you can copy the text and use it as per your requirement.
Easy to Use Online Urdu Typing Keyboard
Urdu Keyboard Online by SEOMagnifier is especially useful for people who want to get rid of all the technicalities and are just looking for a simple and easy way of tying Urdu online. In most cases, when you have to type in Urdu using your phone or PC, you have to download additional language software and tweak the settings of your device a little bit to get the Urdu keyboard.
And even if you succeed in downloading and running the keyboard, learning to use it is a whole new struggle.
Online Urdu Typing Keyboard allows the user to get rid of all this struggle and offers them an easy and simple way of typing Urdu text online.
How to use SEOMagnifier Online Urdu Keyboard?

Once the tool loads up, choose the Urdu language from the settings below the textbox.

Type the Urdu words using the characters given in the tool.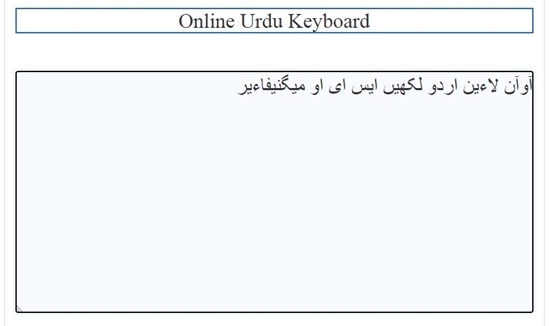 You can edit the written characters in this tool as well.

Copy your written text and use it however you want to use it.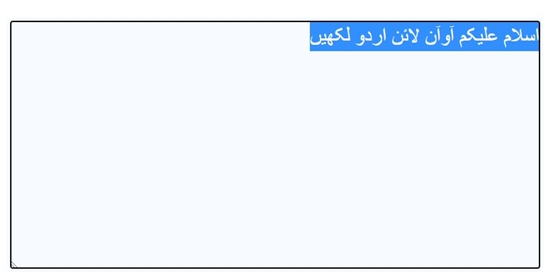 Urdu Keyword Best Features
Write Urdu Online for Free
With the Urdu Online Keyboard, you don't need to download additional applications to get an Urdu keyboard. You don't have to waste any kind of money or your internet bandwidth for downloading additional language settings. The Urdu Keyboard online by SEO Magnifier will give you a keyboard to type Urdu for free, without spending anything.
Friendly User Interface
Our idea behind the design of this tool was to make something that is easy to use both for professionals as well as beginners. The user interface of our Urdu Language typing tool is simple and easy to understand and use. SEOMagnifier have another option for unlimited text to speech audio conversion to create the mp3 version of your content and it's free forever.
Type Urdu Text Online: Words, Sentences, Paragraphs
Whether you want to type a word or a sentence, you can use this tool to type anything in the Urdu language. You can even write complete paragraphs and essays with this tool, without any kind of character limits.
Easy to Use Web App
Being a web app, you can use the Urdu Keyboard Online on your PC, laptop, tablet, as well as your phone. Our Urdu keyboard is the easiest to use tool for typing Urdu that you'll find out there. You can use the output text on Facebook Twitter and many other social media platforms. This tool makes typing in Urdu as simple as possible for the user.
Safe & Secure
This Urdu Keyboard typing tool is safe and secure in the sense that whatever you type in this tool, it is only visible to you and we don't store anything on our servers. As soon as you leave the Urdu Keyboard tool interface, your usage history gets removed from our servers.
Online URDU Keyboard FAQs
What apps to use for English to Urdu keyboard?
There are a lot of mobile as well as PC apps for Urdu keyboards that you can find online. You can download the Urdu phonetic keyboard for your specific Windows version, or you can download a top-rated app for the Urdu keyboard from the Google Play Store.
The Urdu Keyboard by SEOMagnifier is the best web app for the Urdu keyboard that you have online. This app is simple to use and offers cross-platform support.
How to get an Urdu keyboard on a laptop?
Visit the Microsoft website and download the Urdu Keyboard file from there
Use unpacking software to unzip the downloaded file.
Click on the downloaded file to install it on your phone.
To enable the Urdu keyboard, go to the control panel.
Look for the Regional and Language Settings.
Click on the Language Options.
Navigate to the Add option.
Choose Urdu from the given set of options.
How can I type Urdu on the keyboard?
If you want to type Urdu on the keyboard, you can use our free-to-use online Urdu Keyboard tool. Although there are various ways you can easily type Urdu on the keyboard, our tool offers you the easiest way to go about it.
How can I type Urdu on a Google keyboard?
Google Keyboard comes with Urdu Language settings by default. You just need to enable these settings to start using them. Here is how you can go about it
Visit the settings in your android device.
Find the Language & Input settings.
Navigate to the Keyboard options.
Tap on the Virtual Keyboard.
Choose the Urdu Language for the Keyboard.
Tap on done to add the Urdu keyboard to the Google Keyboard.
Which keyboard layout is used in Pakistan?
In Pakistan, the Urdu Phonetic Keyboard Layout v1.1 is used as a standard. The Urdu keyboard layout was designed by CRULP (The Centre of Research for Urdu) and is extensively used all over the country.