Spanish Checker
Enter your text:
(or)
Upload a document: (Supported Format: .doc, .docx, .txt)
Welcome to the SEOMagnifier's Spanish Grammar checker tool that allows fixing spelling and grammar issues for the Spanish language. Here we will focus on improving creative writing skills. If one will do a continuous amount of practice, then one can slowly and gradually improve their creative writing skills.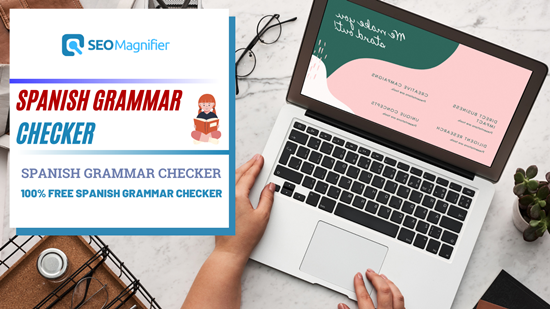 This talent for doing creative writing, it is not a natural talent. This talent can be made. If one will not practice his creative writing skills on a regular basis, then eventually this talent will be lost from his personality. Each one of you can acquire and get this talent, but how? We can tell you! Golden tips are shared on this page and these tips will tell you how you can quickly improve this creative writing section of yours in the English grammar correction section.
Which Spanish grammar and spell checker should I Use?
If you will search, you will be finding so many best tools for Spanish spelling errors. In all such tools, we have the name Language Tool as well. This tool is best to use when it comes to spelling and checking the Spanish language content. The Spanish grammar corrector tool also offers grammar suggestions as well. You have to just paste your text here and click the 'Check Text' button.
You have to click the colored phrases for details on potential errors, or you can also make use of this text to see some of the problems that are detected inside the language tool. Style issues will be highlighted in the blue highlight color. This is meant especially for premium users. There is no such character limit. You can also use the add-on for Firefox and Chrome. This language tool will also be working in your browser as you can check the text you enter in text fields or check the selected text on websites.
How to check and fix the Spanish spell and grammar using SEO Magnifier?
This tool comes with a simple and interactive user interface. It is effortless to use. Just copy your text in the specified box and click the start button. The tool will go through every bit of your content and highlight your grammatical and syntax mistakes. However, this tool will automatically generate possible solutions to your grammatical mistakes thus improving the overall quality of your content. Anyhow if you want to check for other languages e.g Russian grammar checker, german grammar checker, French grammar checker, or English grammar checker you can check out other grammar checkers which support up to 26 different languages.
1. First of all, go to the home page select the "Spanish grammar corrector" https://seomagnifier.com/spanish-grammar-checker.

2. "Copy and paste the Spanish text" into the input box or select the "Spanish" language document to check.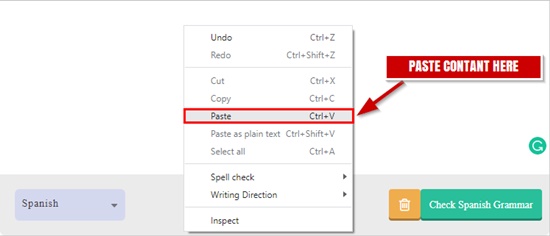 3. Select the "Spanish" language from the drop-down menu.

4. Hit the "check Spanish grammar" button for correction and apply your favorite changes and that's it.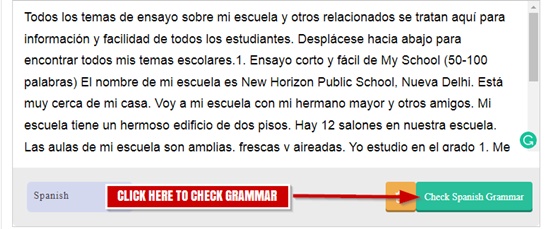 How to spell check in the Spanish language?
If you want to spell check in Spanish, then it is important too, first of all, choose the premium and best quality Spanish spell checker for yourself. This will make your whole task half of easy. Now let's share the steps about how spell-checking tool can be made possible!
You can start as by either copy the text and paste it in a text box on the online spellchecker.
You can also provide away with the URL as where you will make sure that you download the document to spell check from the internet. It is also possible to check a website for errors by just entering the domain name.
It is also possible much as to spell check with the uploaded file as provided on with the given set of the format. You can choose the tool that is supporting the Microsoft Word choice (DOC/DOCX), Adobe PDF, Text files, RTF files and can even hold on as to extract text from images using optical character recognition (OCR).
If you are considering on as using with the services like Google Drive or Dropbox, you can also upload with the documents from the cloud storage.
How to set MS word document to check grammar in Spanish?
If you are working on the document and hence you have to add on with the text that is another language other than the one you normally use, then in that condition Office can check spelling and grammar of that text for you. If you are using the 2007 version, then you will not be provided with the feature of the language. You need to add the language or you have to do the downloading of the interface pack.
If in the condition you want to type certain characters or symbols, such as the umlaut in German (ö), the tilde in Spanish (ñ), or the cedilla (Ç) in Turkish, you can consider to choose the symbol gallery or use the keyboard shortcut or can also insert with the ASCII or Unicode Latin-based symbols or characters. If you want to use some other language, then you have to use the native language keyboard layout when typing in different Latin-based languages.
Golden Tips To Improve Your Spanish Grammar
Improve Your Observation Area
You need to observe other free grammar creative writings. More you will be able to observe other creative writing articles and writings, the better you can focus on your spelling mistakes and creative writing skills.
You have to keep on writing as much as you can so that it can help you correct punctuation. Do not stop this practice of yours. More you will practice, more you will get a grip on your creative writing skills. Continuous writing expands and broad your writing area through the Spanish text editor. Through this continuous practice, you are able to think more and more creatively and carry out with some underlined spelling. You can also have a consultation with your seniors, teachers who are good and exceptional in creative writing. They can guide you that in which areas you are good at and in which creative writing areas you need improvement and about your punctuation mistakes.
In initial and beginning times, each one of you will make errors and mistakes in the creative writings of your sentence structures. But you should learn from those errors and mistakes of your rather than getting scared of them. Consider these mistakes as your buddies and friends, consider these mistakes as your teachers because these errors and mistakes will let you identify and hint at your weak points and at the end corrects punctuation.
Remain Confident While Writing
Remain as much confidence as you can when you are writing something creative and in the punctuation checks. You should improve and enhance your confidence. You can do so by sending your creative writings and short stories to a different set of newspapers or magazines. You can publish them on websites in your language.
Participate in Debating Competitions
You can polish this creative writing area of yours even from school level in your English grammar class. At school, you can take part and participate in different debating competitions. These discussions will give you confidence and will let you think more creatively and learn about Spanish accents. Through these debates and speech competitions, you will read more and more informative articles.
The Benefits Of SEO Magnifier Spanish Grammar Checker
It's very simple to use; just select the Spanish language from the drop-down list and paste your text into the box. Within a matter of seconds, the tool will show the errors. You can choose your favorite suggestion to fix it up.
Are you ready to explore and polish this creative writing skill of yours in wide range? Do that now and start to write something creative as run-on sentences. Share your thoughts about Spanish grammar tool with us as well.
Communication, whether it be written or spoken, can determine the level of your success. It is quite essential to be able to write error-free content. We can write pretty decent content if we write in our native languages but when it comes to foreign languages, grammatical mistakes are bound to happen. This tool can help you figure out your grammatical errors and assist you in your way of becoming an efficient Spanish writer.
1. Grammar Mistakes can cost you a lot:
Every website owner knows the importance of quality content. It is one of the most important factors that can determine the sales of your product in the online market. Creative writing is no child's play especially when it can directly affect your end results. Writing reasonable content becomes even more challenging when you are new to the language and don't have the necessary grammar knowledge about it. But ultimately, you do need quality content in order to expand your business to other countries and target that audience. Grammatical mistakes are bound to happen, so it is better to avoid all those mistakes altogether.
2. Improve Your Writing Skills:
You don't have to worry about grammatical mistakes anymore. Our Spanish proofreader tool can take care of all of your grammatical errors. However, there are many tools available that provide grammar checking but they don't always suggest the solutions to those mistakes. Our Spanish grammar error detection and correction tool utilize the latest grammatical errors checking technology that can help detect and correct all kinds of minor and major grammatical errors.
How to learn Spanish Grammar Fast?
If you are learning Spanish for the first time, and if you want to be an expert in it, then it is important to follow some guidelines and easy steps in the beginning of the stages. Let's teach you a few of them!
You should be spending at least the first three months perfecting the present tense of the Spanish.
You should also be carrying out the practice of the past and future tenses in private conversation classes.
You should keep a notebook with you and note down each single new Spanish word you listen around.
You should make some efforts of writing in Spanish small paragraphs every single day.
You should also be taking some specific set of courses in the use of the subjunctive.
Try to take some help from hiring a native speaker.
You should watch Spanish films and cartoons or listen to Spanish music and radio.
Spanish Grammar Corrector Features:
Here are some of the features of the seo magnifier free Spanish grammar check tool.
Highlight all the mistakes, whether it be minor or major.
Improves the quality of your content.
One click results e.g no complicated tasks to perform the check.
Innovative and Intuitive interface.
Conclusion:
Grammatical mistakes are something that should not be taken lightly as they can directly affect your reputation as well as sales in the online market. You can either take your time to improve your Spanish writing skills or you can use our tool to speed up the learning process. This tool can save you a lot of time and effort. Finally, If you want your content to mistake-free and impactful then this is the right tool for you. In the end, We encourage you to improve your Spanish writing skills but if you want quick results, then our Spanish grammar tool is the
best hack to learn Spanish
from home and is always available everywhere.