Hosting Checker
Enter a URL
SEOmagnifier's Website Host Checker brings you the results in a snap! Our free domain hosting checker allows users to check the hosting of a website.
Why Use a Hosting Checker?
In this world of technology, every business is becoming digital. They are building sites and web pages and using different hosting services. It is important to outrank your competitors in every field. Without knowing the information about the competitors, you cannot beat him.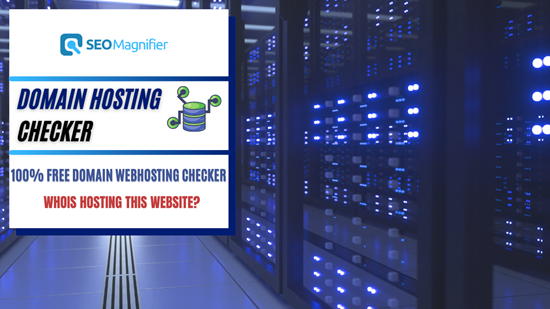 The one important piece of information you may need is to judge which hosting your competitor uses. Here the hosting checker comes into play. Domain hosting checkers can provide you with information about the hosting of a website in just seconds, as fast as the SEO Magnifier bulk domain availability checker.
How To Check Any Website Hosting Using SEO Magnifier? [Step By Step]
This free online tool allows users to discover who is hosting any website. To use the website host checker, follow the given below steps: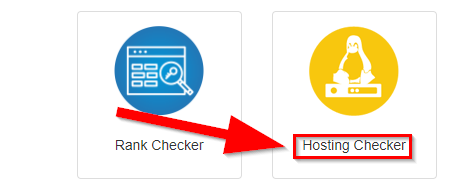 How Does SEO Magnifier Hosting Checker Works?
Our tool utilizes different techniques to perform the job. When you enter the URL to check the hosting of a specific site, our tool crawls the hundreds of data of hosting providers. After evaluating the site with different hosting providers, our tool presents the host information within seconds.
Getting the information, finding the result, and presenting the information are all things that are done instantly by our tool. It just takes seconds to do this.
Features of SEO Magnifier Hosting Checker
The following are features of the hosting checker;
Easy To Access
One of the best features is that it is easy to access. There is no need to sign up or get registered before using it. Just go to the tool, open it, and start working. It is available 24/7.
Free To Use
There are a lot of online tools available that demand money before use. SEOmagnifiers always provide user-friendly features. This tool by SEOmagnifier is free to use. There is no need to pay money to use it.
Reliable Tool
Scammers are wandering all around. Scammers' tools never provide you with the best and reliable results. Our tool provides you with a reliable tool. You can rely on the Info provided by SEO Magnifier hosting tool.
Do We Require Users to Register Before Using This Website Host Checker?
We do not require our users to register; no payment is needed. Our Website Host Checker is a free online tool you can use anytime. This host lookup tool provides users with web hosting data in just one click. Simply enter the website URL
You want to check, and then we will provide you with the web hosting data. You can confidently search with fast and reliable results because our tool uses unique algorithms to check web host details. We aim to provide you with the best web host search on the internet.
Why Do We Need To Check For Website Hosting Providers?
This website host checker can help you to find out who is hosting any website. It will give you a good insight into which web hosting company can give you the best value for your online business. You can use this information in making comparisons, whether it is for performance, ranking, platforms, and geographic locations. If you want to get in touch with the hosting provider of any domain, this free online Website Host Checker is the right tool for you.
How To Find The Details of The website?
It is not a difficult job to find the details of the website. Many tools are available, like bulk domain age checker, keyword-rich domain name finder, and domain host checker. Using these, you can get different information about a website.
For free, you can find the information about hosting the site using the web hosting checker tool.
Using a domain age checker helps you check the website's age on the internet.
There are different techniques that an SEO expert uses. One of them uses keywords in the domain name. You can analyze who is using the exact keyword in the domain. A keyword-rich domain name finder tool can help you find a domain name enriched with keywords.
What Is Domain Hosting?
Web hosting services include providing a website with storage space for web documents and databases. They also offer email and other services needed to maintain a website. With web hosting services, website owners can reach out to millions of people because it makes their website accessible via the internet 24/7 without interruptions. A web host provider can also help a website to load fast.
That is why looking for a website hosting company that delivers high-quality performance is important. To help you in finding the right website hosting provider for you, we have developed this free online web host.