Is This Link Safe
Enter up to 20 URLs (Each URL must be on separate line)
Link safe checker is an online tool that allows you to check the site's safety. Free URL safety checkers check URLs and offer a detailed report on the site's legitimacy.
What "Is This Link Safe Checker"?
A link safe checker is any tool or software that tells you about the website's reputation. Various factors determine the safety of the website. The absence or presence of malware, whether the site is blocklisted or not, injection of spam, and many other factors determine the website's safety.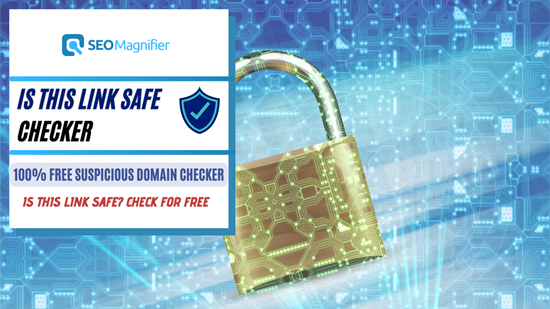 A URL checker considers these factors while assessing the website's safety. In its report, a link checker tells you whether the link is safe. If it is not, you should avoid visiting it because it can cause harm to your system.
What is a Suspicious Domain/Link?
A suspicious link is a link that leads to an illegitimate site. This site can track your personal information like credit card or login details of any secure and personal profile. These links are primarily used in phishing attacks. It can also affect the user's system by installing viruses into it.
Why Is The Link Safety Checker Important?
The link checker is essential because it ensures the safety of a system or a person's personal information. Before visiting a site, you can check whether it is safe through the link safe checker. You should avoid opening the site if a URL checker detects malware in the area.
Such sites can steal your personal information, like credit card details. If you visit them, they can download viruses to your system. Visiting a blocklisted site or spammy site can affect your site traffic and system badly.
How To Check The Reputation of a Website?
Many URL checker tools check a website's reputation and provide detailed reports. You can find either paid or free link safety checkers on the web. Link safety checker by SEOmagnifier is also one of them. You can check, through this tool, the safety of the link.
How Does Our Free Link Safe Checker Tool Work?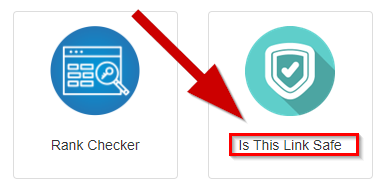 Put your URL in the link safety checker input box on the tool.
Click on the "submit" button.

Viewing the safety report of any submitted link will take a few seconds.

Features of SEO Magnifier Suspicious Domain Checker
Our Link Safe checker provides you with the following feature.
Free To Use
The best thing you can note in our tool is that it is free. SEOmagnifier provides many tools, including the bulk domain availability checker, link safety checker, and many others. All of these tools can be used for free. You need not pay any price to use these tools.
Quick Check
Link safe checker by SEOmagnifier provides you with a detailed report about the safety of a URL. It all checks the relevant things. It tells you whether malware is found on the site or not. It also tells you about the presence of the site in the blocklists. All reports are presented before you within seconds.
Availability
The SEOmagnifier tools are available 24/7. You can use any of the tools at any time. You can check the safety of the URL through its URL safe checker at any time of the day. Just open the tool, paste the link to check, and press the check button. It will present you with the data in seconds.
No Registration
SEOmagnifier always counts its users first. It always tries to offer them maximum ease. Hence this is another feature of our tool that doesn't demand any signup or registration process from your side. Before checking a link, you need not waste your time on registration. Just open the tool, paste the link, proceed, and boom, the report will be in front of your eyes.
SEO Magnifier Is This Link Safe Checker FAQs
How Can I Check if a Link Is Safe?
You can check if a link is safe or not through online tools. SEOmagnifoer's phishing link checker is one of them that tells you about the site's safety. It can detect suspicious links. It can provide useful data like whether the link contains malware or not the site is blocklisted or not. Such things can help you check whether a link is safe. It also allows you to prevent the age of the domain through its domain age checker.
How Do I Know if I Clicked a Phishing Link?
A phishing link has several signs, noting that you can calculate whether or not you have clicked a phishing site. Phishing links often lack the HTTPS version of the URL. Malicious links demand your personal information and some financial information. The URL of the phishing link contains a different URL than the legitimate site. You can also observe special characters and misspellings in the URL.
What Is Website Malware?
Malware software or malware website is any website designed to harm its users. It can release a virus into your system. It can also affect the SEO of your site. Hence you may see a drop in traffic and authority of the site. It can indulge you in the process that leads to the leakage of your data.