Readability Checker
To use Readability Checker, Paste text in the textarea box given below and click on Test Readability Score Button.
Check the readability score of your text with just one click using the readability score checker.
What is the Readability Score Test?
Readability refers to how easy a piece of text is for a reader to read and understand. The simplest definition of readability describes the degree to which readers can comprehend the text.
The degree of readability is measured using the reading score that is calculated by assessing the quality of a piece of writing using a set of measures.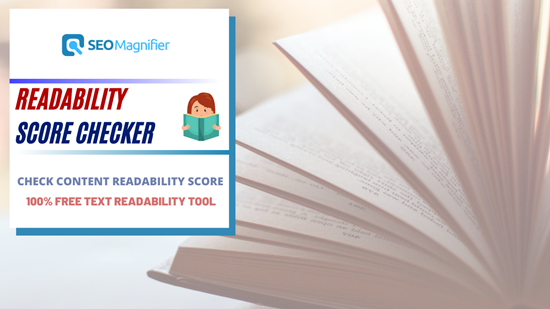 The readability score can range from 0 to 100. It helps determine areas in which you need to concentrate your efforts to improve the readability of your writing for various types of readers.
Businesses and individuals who want to create content that is easily read and simple to understand can utilize reading scores to evaluate their content to ensure quality. Also, you can use the Compare Text Online to compare two different pieces of text after checking their readability.
What is a Readability Score Checker?
The Readability Score Checker can help you determine what grade-level children can comprehend and read your piece or text. There are a variety of formulas used in the calculation of reading comprehension scores. Different methods are used to figure out the grading levels for text.
The most well-known methods include Flesch Kincaid Reading Ease, Flesch Kincaid Grade Level, Gunning Fog Score, SMOG Index, and Automated Readability Index.
The ability to check reading levels is also useful for educational purposes as in the creation of web-based marketing material. Our online readability checker can help you achieve this.
Utilize our free readability checker online to find out what your text will be able to read for different readers and to make it easy to read.
Our readability checker uses Flesch Kincaid Grade Level reading ease score, Gunning Fog Score formulas, as well as the simple measure of Gobbledygook (SMOG Index) to assess the readability of your content. You can check out the Tiny Text Generator to generate unique content for posts as well.
Free Online Tool to Test Readability Score
This free online tool lets you check the Readability Scores of your text in accordance with various scales like Coleman Liau index, Flesch Kincaid Grade Level, ARI (Automated Readability Index), and SMOG.
The measurement of readability used in this tool is the indicator of the number of years of schooling that an individual needs to be able to comprehend the text at the very first reading. Also, you can use the Reverse Text Generator to generate reverse text for social media and check its readability using the Readability Score Checker as well.
These tests are commonly used for comprehension and skill training. This tool is designed specifically for English texts, but it could be useful for other languages. The tests typically penalize writers who use phrases with more syllables per word as well as long, complex sentences.
How to Use the Readability Score Checker?
Here is how you can use the Readability Score Checker:
Visit our website and look for the Readability Score Checker.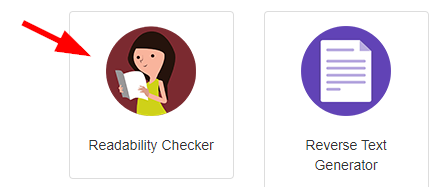 Copy and paste the text into the textbox to check readability.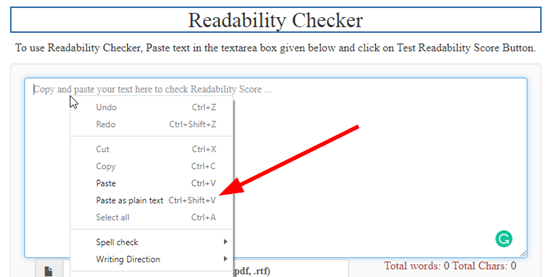 You can also upload a document if you want for checking readability.

Click on the Check Readability button to get the readability score.

The results will be shown soon after the readability score.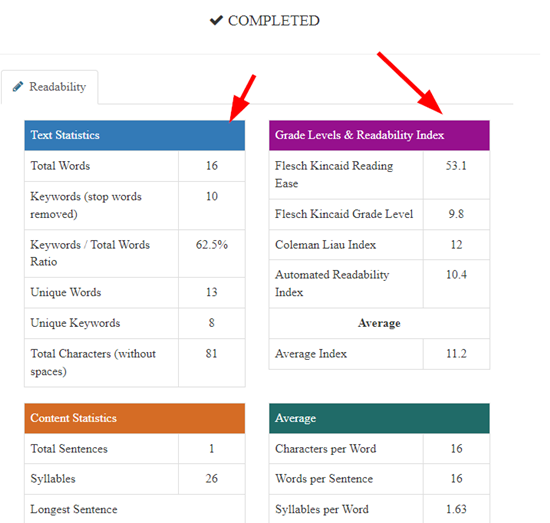 Readability Score Checker Best Features
Free to Use
Get our score for readability for free using our online readability checker. This useful tool will give you the things you need for no cost.
There aren't any hidden fees or credit card charges involved. Therefore, you needn't be concerned about us charging you for your research. Also, you can use the Small Caps Generator for 100% free as well.
Simple & User Friendly
It is the easiest and simplest readability test tool available. You won't find anything that is more straightforward. We designed an easy-to-use interface that is comfortable and easy to understand for both returning and new users alike.
Contrary to the majority of free tools for assessing readability, the experience of the tool is easy and easy to use.
It is easy to utilize this tool to assess the quality of your text using the Flesch Kincaid Grade Level scale. User interfaces are designed with appealing UI elements that make it easy and enjoyable for the users while checking the readability.
Comprehensive Report
We employ a variety of readability tests as well as algorithms and combine and them to produce the most effective results.
The tool doesn't only provide you with the score for readability alone. It also provides the number of words and syllables and syllables per character in your text, by looking at the length of the sentence. This facilitates text formatting for the reader.
You can use the insights that you get from this tool to make your text more effective for the readers. After checking the readability, you can use the Text to Speech Converter to convert the text to speech.
Fast Speed
Last but not least, analysis at the writing level is not just effective, but also extremely speedy. It's not speaking of minutes, it's seconds.
You only need to blink once, and you have an extensive and thorough report in your possession. Quick, free, and simple. You can use Text to Image Generator after checking the readability of the text as well.
Safe and Secure
The information you analyze and process using this tool will be secure from any kind of unauthorized access.
Our servers are unable to read your text, and the data processed is instantly erased after you've finished by using our reading checker online. Once you have checked the readability, you can convert the text to PDF using the TXT to PDF converter.
Readability Score Checker FAQs
How do I check content readability?
You can use the Readability Score Checker by SEOMagnifier to test the readability of your content for free.
Is a 40 Readability Score good?
40 is not a great readability score. If you want excellent results, you need to aim for 60 or higher in terms of readability.
Is 70 a good readability score?
70 is a good readability score for a piece of content. Still, you should aim for much higher than that if you want to make the content easy to understand for everyone.
Is the Flesch-Kincaid score accurate?
This score is the recommended standard for testing the readability of a piece of content. You can use this score to accurately determine the content readability.
How do you fix the readability score?
You can try using simpler words, making paragraphs and sentences smaller, and minizine the usage of passive voice to improve the readability score.
How do I know my writing level?
You can use the online readability checker by SEOMagnifier to figure out your writing level. Using this tool is going to make things a whole lot simpler for you in terms of finding the writing level.