Remove Duplicate Lines
Enter your text here
(or)
Load a file
Case sensitive. Remove empty lines. Display removed.
A duplicate line remover is an online tool that is used to remove duplicate lines from your text or string. Using our Duplicate text deleter, you need not worry to find and delete duplicate lines.
What Is a Duplicate Line Remover?
A duplicate line remover is a tool or software that helps you identify and undo duplicate lines of text within a document or file. This is particularly useful when you have a large amount of text and want to remove any duplicate lines to make it more readable or to avoid any unnecessary repetition.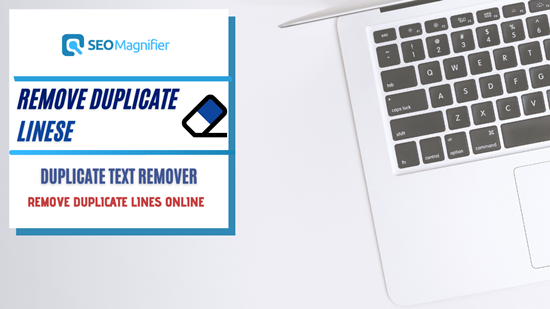 Duplicate line remover works by scanning the text of a document or file and identifying any lines that are identical to one another. It then removes all but one of those lines, leaving only unique lines behind. This can be a very useful tool for anyone working with large amounts of text, such as writers, editors, or researchers, as it can help to save time and ensure accuracy in their work.
How To Remove Duplicate Lines Online Using SEOMagnifier? [A Guide]
SEOmagnifier offers many valuable tools for its users. These tools include the tiny text generator and other content-related tools that can help you improve your content quality. Duplicate line remover is one of them.
You can use the Delete Duplicate Text tool to extract the same lines from the text in the following given easy steps:

Paste the line in the toolbox to remove similar lines.

Press the Remove duplicate line button.

The duplicate text line remover will remove duplicate text from the text and show you unique lines.

Features Of SEO Magnifier Duplicate Line Remover Tool?
Many duplicate line removers are available online. Our duplicate line removal tool offers the following unique features:
No Registration Policy
Many tools require money before using them. Some online available free tools can require you to register before using them. Such tools are time-consuming.
SEO Magnifier tools are different. You can use our Duplicate text deleter without paying any price or without passing through any registration process. Hence, it saves your time as well as your money. Our reverse text generator also works on a no-registration policy to generate the reversed text.
User Friendly
The other feature of our duplicate text line remover is that it is user-friendly. The smooth interface of our Delete Duplicate Text tool allows users to perform their tasks without any trouble. Just land on our Duplicate text deleter and start to do your work.
The user interface enhances the user's experience and provides an ease to them. In addition to removing duplicate lines, we also offer a tool to compare text online that can help you compare text.
Compatibility
Our duplicate lines remover online tool is compatible with multiple devices. You need not worry about using it on a PC or on an android device. Even iPhone users can use it on their devices. The tool offers the same and fast results on each device.
Hence, the nature of the device is not relevant because it is designed for many users. Thus our duplicate line remover is compatible with multiple devices. Our online word combiner is also compatible with multiple devices.
Fastest Result
Our remove duplicate online tool performs its work in minimum time. The tool will find and remove duplicate text lines within seconds. Hence, the tool is preferred over manual searching and removing duplicate lines. The manual process can take minutes, even hours, if the lines are large. The tool will do the same task in seconds.
Duplicate Lines Remover FAQs
How to Remove Duplicate text lines In Excel?
To remove the duplicate liens for excel you can use a duplicate line recover tool page. Just open the toll and paste the Excel data into the toolbox. The tell will identify the duplicate lines and will remove them automatically. You will have unique lines without any duplicates.
Can Notepad ++ Remove Duplicates?
To remove lines, you can first open the document or file in Notepad++, then select all the text and sort the lines in alphabetical order. Once the lines are sorted, you can remove consecutive duplicate text by selecting the "Remove Consecutive Duplicate Lines" option in the "Line Operations" menu.
However, note that this method will not remove similar lines that are not next to each other. For such cases, you may need to use a different method, such as a duplicate link remover tool or script designed for this purpose.
How Do I Remove Duplicates From a CSV File Online?
You can remove all duplicate lines from the CSV file using only the duplicate line remover tool. Just paste the line in the tool and run the process. The Duplicate text deleter will delete the duplicate lines automatically.