Terms & Conditions Generator
Terms and Conditions Generator will help you generate your business's terms and conditions online. Our Free Terms and Conditions Generator will save both time and money.
What is a Terms and conditions generator?
A Terms and Conditions Generator is an online tool that helps businesses create a legal document outlining their services' terms and conditions. This type of agreement is necessary to protect both parties involved in any commercial transaction.
Why Use Online Terms and Conditions Generator?
If you are a business owner, regardless of the size of your company and how long you have been in operation, having an agreement to protect your business against any liabilities will help to keep any legal disputes at bay. This is especially important when you intend to sell goods or services online.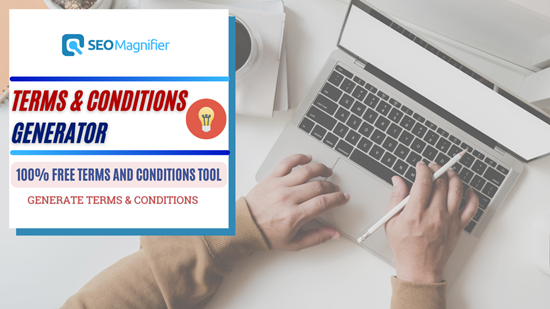 Terms and Conditions Generator is an online tool that helps you to generate your terms and conditions, as this will be your first line of defense on the website. These terms would ensure that you are well aware of all the rights reserved for a company, so you do not make any mistakes in your blogs or other websites acting against the agreed conditions. In addition, these will keep you schooled about all the legal disputes you can face if the rules are breached.
How To Use SEOMagnifier's Online Terms and Conditions Generator For Free
If you have read everything so far and are still reading, it might not be a difficult guess that you want to know more about the Term and Conditions Generator.
Here are a few simple steps through which you can get your Terms & Conditions done by using the Free Online Terms and Conditions Generator:



Website URL and other admissible information.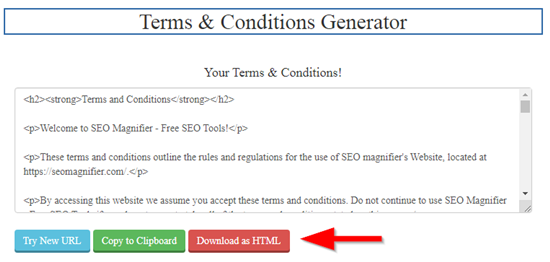 Online Terms and Conditions Generator for Websites:
Like a Free Privacy Policy Generator for websites, the importance of a Terms and Conditions Generator has been emphasized in the past few years. The number of websites offering user agreements is growing daily, so leaving out a user agreement could cause many user issues.
It is an agreement where you inform your website users about the rules, terms, and guidelines they need to follow to use and access your website. This can help you control who uses your account (if any) and protect your brand reputation.
Once you have generated terms and conditions with a tool, you can check the grammar of the sentences to avoid any inconvenience.
Free Terms and Conditions Generator for Ecommerce stores:
A Terms & Conditions agreement could legally protect your e-commerce online stores. The agreement may cover all events that may happen during initial purchase and afterwards through the online stores, such as when the item will be shipped, and delivered and who would be responsible for transporting the parcel back in case of return or repair. All of this and relevant information is covered in the Terms and Conditions Template. You can make use of a free ai sentence rewriter to improve the terms and conditions that you manually derived from a tool.
Online Terms and Conditions Generator for Mobile Apps:
A good Terms and Conditions Agreement for mobile apps is essential for app owners who want to protect their intellectual property and prevent copyright infringement, user harassment, or illegal activities. With its help, you can block or terminate accounts at your own discretion and make them pay a fine if they violate any terms.
Free Terms and Conditions Generator for SaaS Apps:
Terms and Conditions are legally binding agreements between a company (the app developer) and its users. Any agreement needs to be set out clearly and unambiguously in order to offer customers clarity when it comes to their rights, obligations and responsibilities. For instance, if a customer has not paid the subscription or monthly fee, you can easily freeze their products or services and disable their subscriptions until the payment has been made.
Online Terms and Conditions Generator for Facebook Apps and pages:
Suppose you are thinking about creating a Facebook id app for commercial or personal use on any social media platform or have already published one. In that case, you should consider having a Terms and Conditions agreement available on your app's social profile. Doing so will help you create a better image while also making sure your users agree to adhere to your company's policies.
What Should I Write In The Terms and Conditions Page?
Terms and Conditions agreements are not legally required. Still, they are important contracts that are used at the inception of a business relationship to clearly outline what each party's expectations are in regard to agreements.
This Non- legally binding can be something as simple as a Non-disclosure agreement (NDO), or even more detailed, including terms such as terms of services and subscription policies. The content in these agreements should be specific to your business model and translucently address any subject matter that affects your terms or values.
Can You Copy the Terms and Conditions?
You may have wondered, "can you copy the terms and conditions of another company that you really like?"
The answer is "No!" You can not copy the terms and conditions of an existing company because this is a legal theft and may lead to any legal action against this. If you copy someone else's content or information without their consent, it will be considered a misappropriation of property.