Content paraphrasing is the skill to express someone else's ideas or writings in your own words. This is an important skill to learn because honestly, it is quite hard to find new content and ideas to write about as the internet is full of similar content and researches.
You are just one click away to a library of hundreds of similar articles and papers that are somehow related to your topic. So, the bottom line is, there is nothing new from an SEO expert's point of view as far as the type of content is concerned.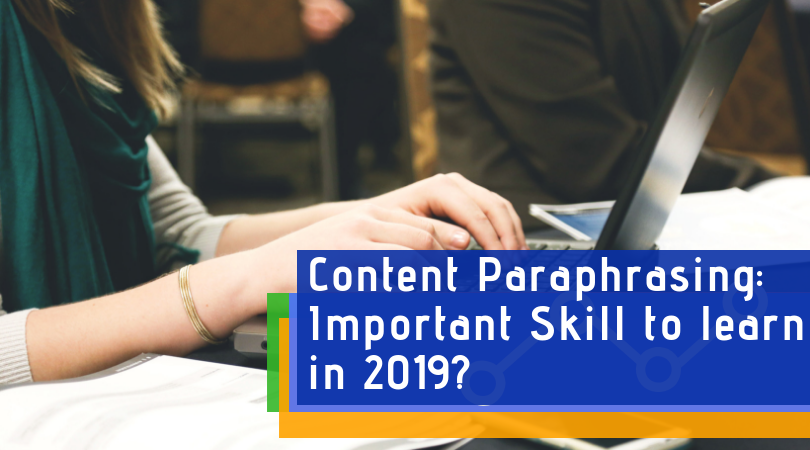 It is even more troublesome for online businessmen because you can see almost identical products on multiple forums with almost the same product descriptions. It makes sense to use similar content as per the product features. So, there is a great need for people having skills with paraphrasing because they are the ones who can help you produce content that is rewritten in such a way that there are no copyright issues. And believe it or not, it doesn't matter what kind of website you own, you do need to have unique content on your forum.
Things to keep in mind while paraphrasing…
Read the content over and over again so that you fully understand the idea behind the content
Take a blank piece of paper and write down important key points about the content
Try to change the sentence structure and adjust it to your own writing style
Using just synonyms is not enough. Make sure to translate everything in your own words
Use enriched vocabulary
Use citations at appropriate places
Compare your writing with the original
Benefits of Paraphrasing:
Helps you look at things in a new light
Saves you time and effort
Helps avoid copyright issues
Helps write plagiarism free content
Online Paraphrase Tool:
You can also use our best paraphrasing tool 2019 to automatically create paraphrased content for your website. This tool is absolutely free to use and works quite well. Paraphrasing manually is good but it is time-consuming and considering the competition in the online world, time is your biggest asset. Just focus on other SEO factors of your website and leave content paraphrasing to our free tool. We assure you that the content created with this tool would be high quality and 100% unique.
Conclusion: As the SEO Magnifier Stated that Content Paraphrasing is an important skill because it allows you to look at things in a new perspective. This gives you a better understanding of the same content that has been written over and over again. And you can use this skill to craft your own content that is 100% plagiarism free with no copyright risks.
If you are don't feel like going through the process of paraphrasing then you can always hire a professional for it. Alternatively, you can use our free Paraphrase Tool. Whatever you decide to do, the takeaway is this; "Paraphrasing" is an essential Skill to learn for every online business.