The Spanish Language is not as difficult as it considered to be as comparing it to other languages. If your first language is English there are some rules in Spanish that will feel you strange. But there is no need to be the worry as there are the 10 best hacks to learn Spanish fast that can be used to learn the Spanish language and grammar in less time.
This Ultimate Guide to Spanish will help you to understand this amazing language in an easy way.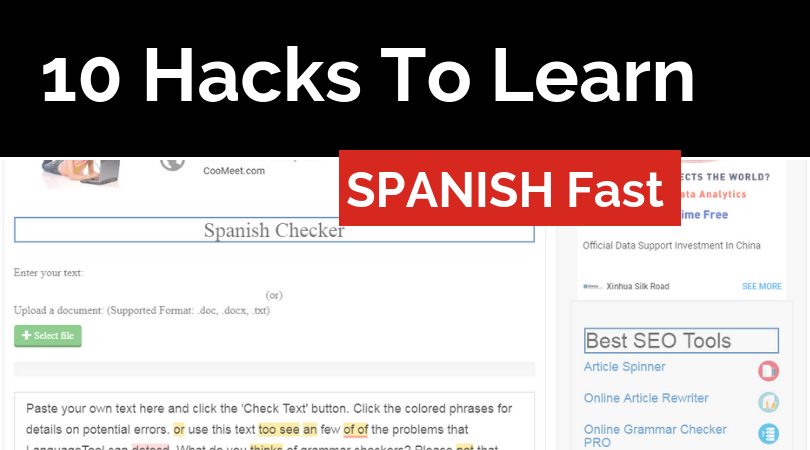 There are multiple ways to learn the Spanish language. But there is one important thing that you must consider before starting the process of learning anything. Nothing is as difficult including grammar, lots of words to remember. These things will never slow you down, the thing which is behind the success in learning any language including Spanish is practice. "Practice makes a man perfect".
1. Daily Practice
Practice the Grammar daily. Include it in your routine and do it as you do other work like eating food, drinking Juice etc. Ones made some progress by practicing in routine but what if he stops it for a longer period than ultimately he will lose what he learned.
The learning process will get slowed. It will take more time than the normal to complete the Spanish Grammar.
The Secret to learn Spanish grammar is the daily practice. It does not need to be long for hours. Just give a little time to practice some Spanish Grammar Basics and you are ready to go.
Also read: Ultimate Guide to paraphrasing and paraphrasing tool
The basic thing that you need is the regular exposure to what you learn. Now comes to the Spanish grammar rules. Here are two approaches that will help you a lot in learning this language.
2. Language Hacking
There is a famous observation by an Italian Economist "Pareto" which is known as 80/20. It means that 80% of the world's wealth is in hands of 20% of the population. Same is applied in the Spanish language as it contains around 100,000 words and most of them are those which are mostly not used in daily life.
A recent study shows that out of these words 1000 words are those which are used 87.8% in spoken language. That's means if you learn only 1% of the Spanish Vocabulary then you will be able to understand and use this language.
3. Using SEO Magnifier Grammar Checker For Spanish
SEO Magnifier Spanish checker is a web-based tool designed to correct the Spanish grammar errors, spellings, punctuations and mistakes with a single click.
Here is how to use the Spanish grammar correction tool.
1. First of all, go to the spanish spell and grammar checker tool page and select the Spanish text file that you have practiced.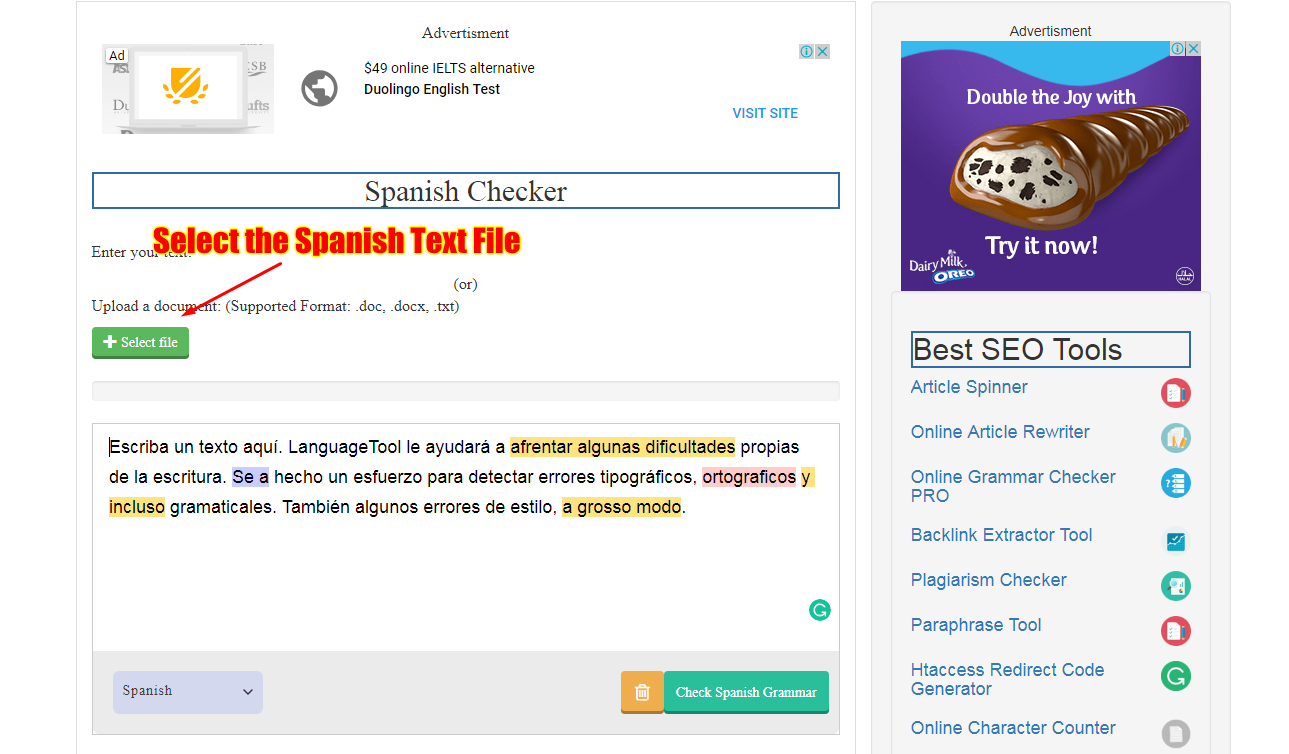 2. Another, directly copy the content from your files and paste into the below box like as follows.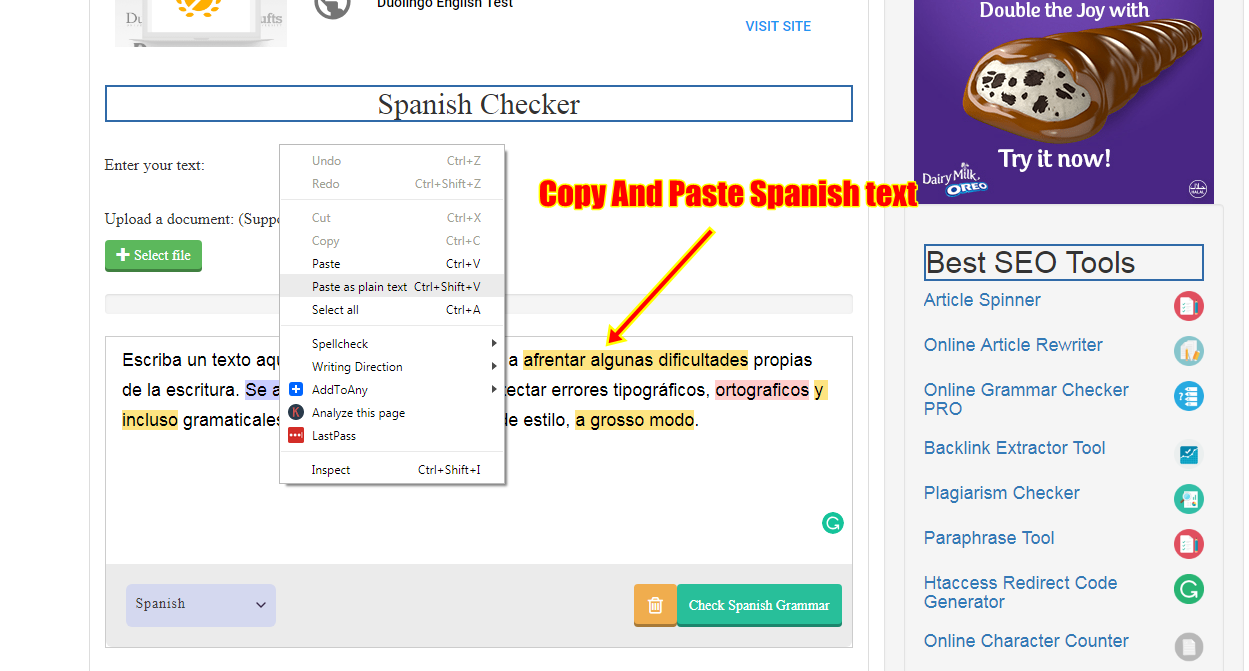 3. Select the "Spanish" language or it will be automatically select as soon you will upload the document file or paste the text.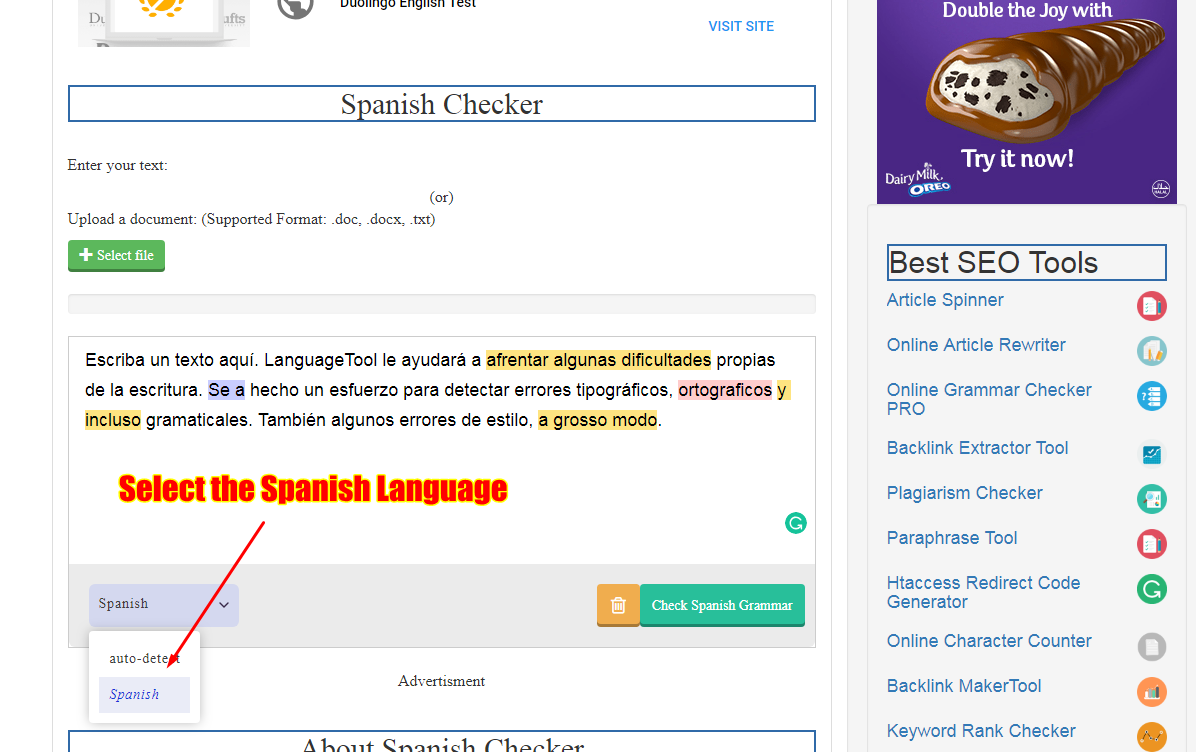 4. Check for the Spanish grammary just buy press the "check spanish grammar" button.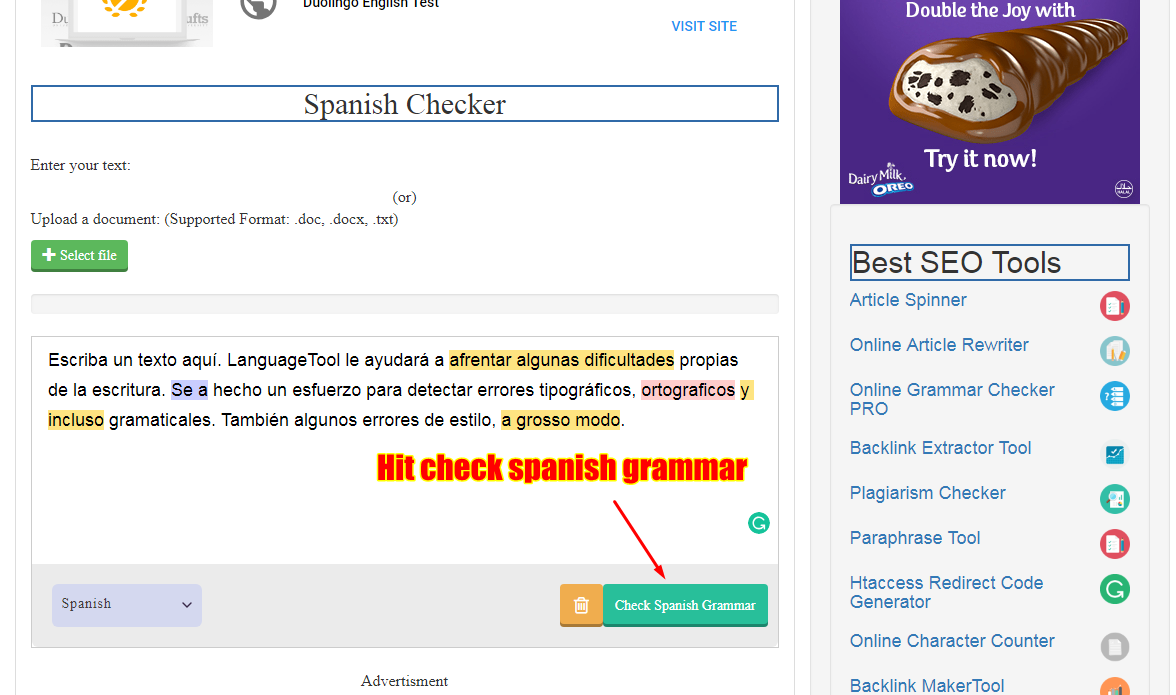 5. After selecting the "Spanish" language it will show the grammar, spelling mistakes. Just apply your favorite suggestions and that's it.
4. Mastery Approach
Mastery Approach is a long-term process in which regular practice will improve your grammar and efficiency in the Spanish Language. This approach should only to be considered if someone wants to live in a Spanish country as it requires much time and regular practice.
5. What do you want? Learn Spanish Or Speak Spanish
The first question that arises is that what 's someone wants from the Spanish language? Are they willing to learn it or they want to speak this language with friends and family? If someone is only willing to learn the Spanish then there are multiple ways that can be accessed for this purpose.
It may include Apps, TV shows, Audio course, Radio classes, software's, textbooks, reading and group classes. But if someone want to speak Spanish than he needs to do some hard work which may include meetups, exchange of languages, daily practice with friends who know Spanish. According to the language experts, learning a new language is more than just reading.
6. Grammar Checker Tools For Spanish
IF you remember the 80/20 rule which is discussed above than you should know how to hack the Spanish language. There are around one hundred thousand words used in Spanish Grammar vs. English grammar.
Out of these three hundred are those that are commonly used and make the 68% of the grammar of the Spanish language. One thousand words are those that make almost 88% of the grammar.
That means you just need to learn and practice few words on daily basis and you are good to go with the Spanish language.
You just do not need to remember each and every word, start with the common one practice that word and choose the words which you are going to be useful for you.
There are some advanced grammar rules but these rules are nor often used, so consider the words that used mostly and conjugations.
7. Online resources for Spanish grammar
There are a number of resources available to learn the Grammar. This is one of the big reasons due to which many people fail to learn the basics of Spanish Grammar.
Some people choose more than one way of learning and end with nothing. Therefore, before starting leaning make a decision and pick only one way of learning and focused on it.
8. Why Software's and Apps don't work?
You can find a number of applications that claim the learning of the Spanish Grammar. But none of them actually work.
Did you any of you family member or friend who learned speaking the Spanish Language by using the applications of software's?
Most probably the answer is No, why is it so?
9. Apps For the Spanish Language
The main reason behind that is they follow the traditional way of learning that you followed in you Spanish class in your schools. Filling in the blanks or choosing a correct answer from the multiple answers doesn't make you the expert.
They the basic thing that is much needed to learn a new language and that a person to talk. One needs to speak the Spanish language to the real people.
10. Speak Spanish As Much You Can
More time you spend speaking the Spanish with people that more soon you learn. Spend more time having real conservation as it the best and oldest way of learning a language that is practiced for thousands of years.
Final Words: Here in this article 10 ways to learn Spanish fast, seo magnifier team tried best to give you a basic understanding of Spanish grammar and language and different ways through which you can hack the language and learn in less time.
The more you practice more you learn. Chose a simple way of learning the Spanish language and go for the common words that are used mostly then try to practice is daily.
Try to speak the language with your friends and try to give their answers in the Spanish Language.
Thanks a lot for reading. If you find it useful or have any question please make comment beneath this post.