Welcome to the beginner's guide to on page and off page SEO. In this beginner guide to On-Page and Off-Page SEO, I'll tell you the basic differences between on page and off page SEO and how you can use these SEO techniques to produce the results that you want.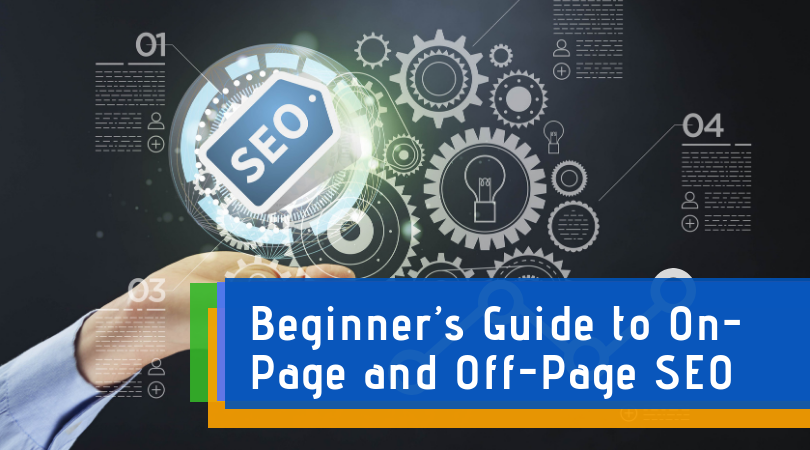 Knowing about basic SEO is the first step towards becoming a top-ranked businessman in the online world. The success of any online forum is not just about the content now, it has become a game of strategies and people, who accurately execute their strategies, win. Without SEO, your blog would be lost in the stream of millions of similar or better web pages. So, let's see what both these terms are all about.
What is On-Page SEO?
As the name suggests, On-Page SEO is all about what is on your page. It is a technique in which you basically focus on the items on the individual pages on your website and try to optimize them as much as you can. These items may include the underlying code of your page as well as the content f your page. You need to optimize these things so that your visitors won't have to face any kind of lag while surfing your page.
But how does it affect your rank in Search Engine Result pages (SERP's)? Well, the best way to explain is, On-Page is what you would call "adding value to your forum". By making it error free and easy to surf, you are increasing its trustworthiness in the eyes of the Google and other search engines. On-Page is all about focusing on the performance of your website by optimizing the stuff that is on your page i.e. website. Here are some On-Page SEO factors that you must consider for optimization
Title Tag and Meta Description Optimization
Standard URL length
Research Common user's search intent
In-Depth Keyword Research
Headings Optimization as per your targeted keyword
Page loading Speed Optimization
Use of quality content
Use of Videos and Images
Inbound Links optimization
Content Relevancy is extremely important as per Google Reports
Some of these terms might be confusing for you, but don't' worry; with a little research you should be able to understand all of it. This was just to give you a head start on your journey to becoming an expert in SEO.
What is Off-Page SEO?
Off-Page SEO is all about optimizing the factors that are outside of your page to increase your website's trustworthiness and authority. It is related to building quality links and generating leads to your website. This should be done on a regular base because new quality links are always preferred by search engines.
In off-Page SEO, you are pretty much dependent on other pages to rank your website. What this means is, you make connection with authoritative websites via back linking so that you can attract a bigger audience. Off-Page SEO includes generating leads via Social Media forums or Social Bookmarking websites.
Another trend that is pretty much in right now is influencer marketing. If you don't know about it, it is a powerful technique in which you get someone with great influence to say something about your business, thus giving you better chances at getting more traffic. Link building is the most important factors of Off-Page SEO. Let's briefly review some of the factors that you need to consider for Off-Page optimization.
Off Page SEO Elements
Creating Quality backlinks (best backlinks maker)
Generating leads via Social Media and Social Bookmarking etc.
Strategically using Influencer Marketing
Images, audios and videos submission
Creating links via Comments linking guest posting etc.
Creating quality content that can be shared on different sites
Making use of Question and Answer forums like Quora etc.
Using Profile creation sites to create links to your website
Where On-Page SEO determines how your websites performs in terms of loading speed and other factors, off-page SEO works to increase your website's trustworthiness. There is no choosing between these techniques because it is an equal combination of both that makes your site rank well in the search engines.
Final Thoughts: Effective SEO strategy is what you need to take your business to another level. And coming up with a good enough strategy requires that you put in the time and get yourself acquainted with the ins and outs of SEO. Also, SEO is an ever-evolving filed so; you also need to keep yourself updated with all the recent SEO trends.
The bottom line is, make sure that all the SEO factors, whether it be On-Page and Off-Page proudly collected by SEO Magnifier officials for our audience, are all relevant and on point to your business. That's what would take you higher in the SERPs while maintaining your trustworthiness.