Link Building is an intrinsic part of a Complete SEO strategy. It is simply not possible to get a higher rank on Search Engines without building quality links. You probably know how important link building is otherwise you wouldn't be here. Still, if you don't know anything about it then don't worry, we'll tell you what it is and how you can use it to your advantage.
Why do you Link Building Strategy in 2019?
Link Building is all about creating links that direct people towards your website. This is a way of attracting traffic towards your website. There are many ways to do that. Some are legal and some not i.e. they can get your website penalized. In short, this is a technique which is meant to increase the quality and number of links linking to your website.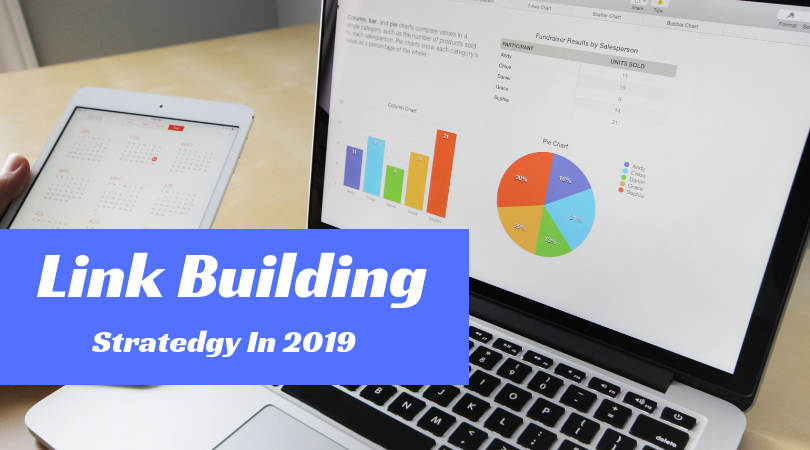 But why do you need it? The answer is pretty simple. You need backlinks because it is one of the biggest ranking factors for search engines like Google. The more quality backlinks your website have the greater would be your online visibility, thus giving you a higher rank in search engines.
Backlinks increase the authority of your webpage in the eyes of Google. When Search Engines find quality websites linking to yours, it increases your websites trustworthiness which makes it easy for search engines to index your webpage.
Link Building is probably the most important SEO skill that you can learn in 2019. But it is not that easy. You need to know the difference between quality and bad links because they both have their own impact. Here is how you can make the maximum out of your link building strategy…
Identify High Quality Links
Identifying quality backlinks should be the first your checklist. This simply involves finding out what links have the potential to give the most traffic and then focusing on those links. You also need to look out for Spam and bad backlinks because they can severely affect your website. It can also get penalized so identifying quality backlinks is extremely crucial.
Quality Backlinks Checklist
Links Should be Organic
Page and Domain Authority
Links Should be Unique and relevant
Number of Internal links
Standard use of anchor text
Also, check out our free instant backlink maker tool to easily generate quality backlinks for your website.
Internal Link Building
Internal Links are links that are on your website and they link to the different pages on your own website. Creating internal links is just as important as building inks to other websites. The best things about internal links is you have total control over them. You can put them wherever you want to. This doesn't mean that you should stuff your webpage with these links. Your job is to put them at the most appropriate place. Here are some advantages of internal link building
Introduces Google to different pages on your website
Gives Google more content to analyze and index
Keeps web crawlers busy with your website
Backlinking via Testimonials and Product Reviews
Creating links via Testimonials and Product Reviews comes under Business to Business Marketing. It is a great way of earning quality backlinks. Testimonials are about giving a company some kind of testimonial statement about their business. This open up new doors for your business in turn.
Product reviews are also a great way to earn backlinks. You write product views for a company and they in turn give you a place in their websites.
Link Building Via Influencer Marketing
Influencer Marketing is a great way of earning quality backlinks. When you want massive results in less time, influencer marketing is the way to go. Influencer Marketing is all about getting a person or a company with a huge influence on your targeted audience and then having them say something about your business on their forum. It increases your trustworthiness in the eyes of your prospective customers who have the potential to do repeated purchases. Here is what you need to consider when looking for an influencer marketing opportunity
Influencer Should be interested in your product
They must know about your business
Paid Influencing is not a good idea
Broken Links Building
Broken link building is a smart way of creating links for your website as well as earning backlinks for other websites. This method is based on doing simple research about a particular page. There are many tools and extensions that you can use to analyze the links linking to a website. You identify links that are broken and not working and then you replace them with new and fresh links.
You can take this a step further and analyze other relevant pages for broken links and then let them know about them. This is great for doing a better positioning of your page. You can also offer them to replace their broken backlinks with your fresh content containing backlinks to your website.
Build Quality Links via Guest Posting
Guest posting is one of the most commonly used ways to earn backlinks. It is quite simple, you write an articles, out a link to your website in the appropriate place and then post it on someone else's website. But why would they allow you to post? They probably won't but some might. The thing is, you need to research and look for such guest posting opportunities.
Guest posting is a great way of going about generating backlinks. Even if you have to pay for it, if the site has a reasonable Page authority then it is not a bad idea at all.
Final Words: A few years ago, many people started believing that link building is as good as dead. Until recently when Google announced that Quality Backlinks is the top ranking factor for them. Link building is important and if you do it wisely, it can take your business to a whole new level. And also, link building techniques have evolved a lot over the years so you need to keep yourself updated with all the latest ways of building quality links. SEO Magnifier mentioned some of those methods in this article so that you won't have to look out for them yourself. We might add more to this in the future so till the, stay tuned!