Digital Marketing is going through a massive shift as we are entering the new year. 2019 brought in a lot of new methods and techniques that made a big difference in the effectiveness of the average digital marketing campaign. And now, online business has come to the point where the importance of an effective Digital Marketing Campaign cannot be neglected. Even if you want to advertise your real word physical products, you would still need to use online forums because they allow you to target a bigger and relevant audience with higher chances of conversion.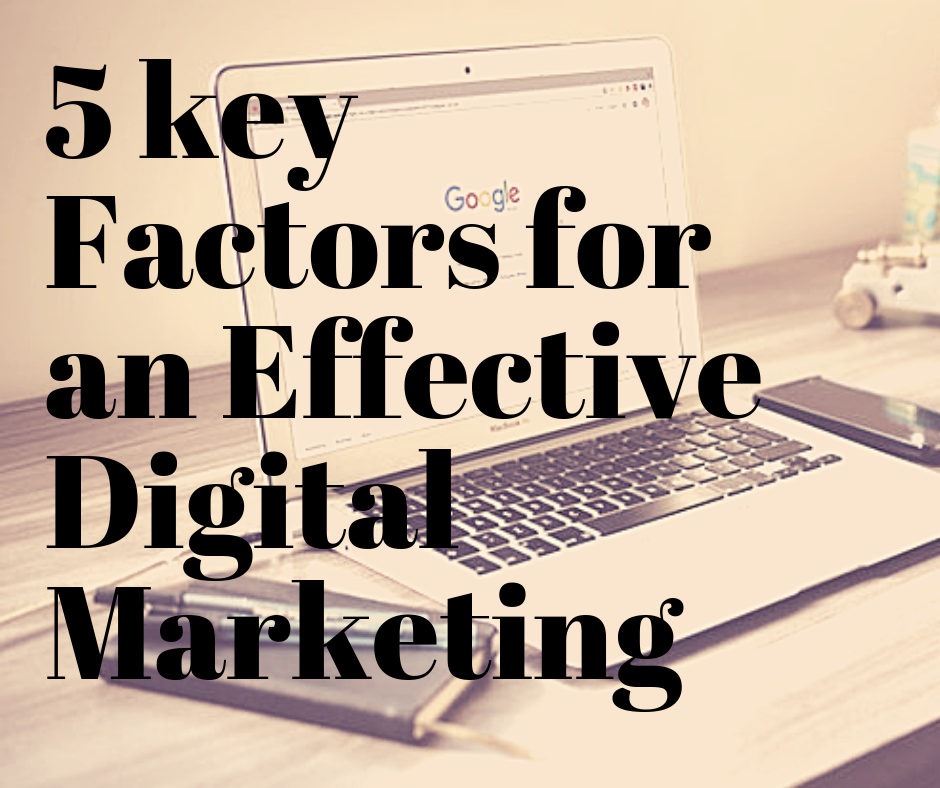 SEO and Digital Marketing technologies are evolving at a rapid pace and the new year is going to bring a lot of new techniques for engaging prospective clients. The website owners who best manage to keep their users interested in their business are going to dominate. And for that, you need brand new and effective ideas that can give you the edge over your competitors.
Here are 5 key Factors for an Effective Digital Marketing Campaign in 2019.
1. Video content is 10x more effective
The number one factor out of the 5 key factors for an effective digital marketing campaign in 2019 is obviously enough, the Video Content.  Whatever numbers you look at, whether it be consumer surveys or business reports, they all claim that video content has proven to add significant value to them. For average consumers, it is being stated that over 70% of YouTube users are engaged with YouTube videos at any given time. This shows just how strong this medium can be if you strategically use it for your digital marketing campaign.
Video content is astonishingly engaging. Many people have claimed that watching a brand video helps them a lot in making their buying decisions. This doesn't mean that YouTube is the only medium that you can use to promote your brands. Other social media forums like Facebook and Instagram now also support video content. Especially with the latest features like live video, you can reach out to your audience and let them know about your latest products and services. In short, strategic video content must definitely be a part of your digital marketing campaign for 2019.
2. Consistently Produce high-quality content
The producing high-quality engaging content is extremely crucial. It is quite tedious to come up with new ideas about products and services but it is definitely worth it. And now you don't have to resort only to the text-based content anymore. You can use the online paraphrasing tools and images, sounds and videos to create appealing content that makes your users stay on your forum longer than your competitors. Quality content was, is and will always be important.
3. Focus on Influencer Marketing
Influencer Marketing is the new face of an effective Digital Marketing Strategy. In case you don't know about it, influencer Marketing is about finding someone who has great pre-established influence and then collaborating with them for a common goal. It could just be about having an influencer say something about your business but having someone who is an influencer and shares the same goals as you, is more ideal. There are mainly two benefits for having influencer marketing as a part of your digital marketing mix
Increases your visibility and reach
Increases your brand positioning
Content Credibility
Help do more sales
Influencer Marketing is not about having a person or brand with a big following to say something about you just because they are being paid to do so. Influencer Marketing should be sincere and authentic. Your influencer should be the one who speaks about you because they find your forum interesting. They should be the ones who have the same goals and values as you. When an influencer speaks about your products and how useful they are, it creates a positive brand image in the mind of your prospective customers. If done right, influencer marketing can yield great results.
4. Use social media platforms as leverage
If you have started an online startup and you haven't devised any Social Media Marketing strategy for it then it is just like opening a business and not telling anyone about it. How crazy is that? Social Media platforms can help you actively engage your existing clients as well attract more new clients. Here are some of the advantages of using Social Media Platforms as a part of your Digital Marketing strategy
Helps build and Manage Reputation
Building new connections
Increases Brand loyalty
Improves brand positioning
Increases Sales
Let's take Facebook as an example. Reports show that a huge number of Facebook users are adults who are aged more than 50. Now for a brand targeting senior folks, this is a great opportunity. Social Media platforms are becoming an intrinsic part of the lives of the average population and using these forums strategically, you can add massive value to your business.
5. Implementation of AI and Chatbots
Strategic use of AI is going to be an important factor which is going to determine the success of your business in 2019. According to SalesForce, more than 50% of online business are already using some form of Ai in their business and the numbers are going to increase drastically in 2019.
One of the most prominent instances of AI is the use of chatbots for handling user FAQs. These chatbots are redefining the way in which customers used to interact with the brands. With enhanced learning abilities, these bots are going to be one of the most important part of online business of any kind.
Conclusion: Follow the seo magnifier guide about creating an effective digital marketing strategy depends on the type of your business but there are certain things that are common for every startup. The insights that have been described above can define the success of your business in 2019 and if you manage to properly incorporate them in your digital marketing mix, they can yield great results.