No one can deny the importance of video content when it comes to the positive positioning of a brand. Businesses have used this channel of marketing for decades and now, online businesses are also coming back to this media format for content marketing strategy for promoting their businesses. That is because many social media platform have made it quite easy to generate video content, allowing businesses to interact with their prospective customers in real time.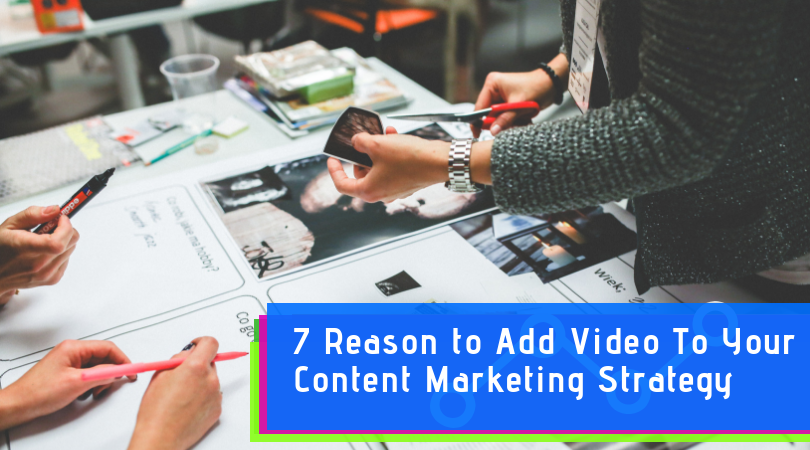 If you haven't already done so, make sure to add video content to your digital marketing mix. It is one of the fastest ways of generating more leads. Here are the top 7 reasons analyzed by SEOMagnifier why you definitely need to add video content to your Content Marketing Strategy.
1. Visual Content is easier to consume
Video content is much easier to consume as compared with other content formats like texts and even images. You can get as creative as you want with videos. That is the thing about videos, there is always room for improvement.
Most Recommended: 5 Things To Clarify Before Starting An Online Business In 2019
Video Content allows you to deliver a large amount of content in a much shorter time. We all know that these are the days when time is of the essence. People tend to go for video content because it is usually concise and there is less pressure on their body which an average person usually feels when reading large sums of texts.
2. Video Content offers better User Experience
Presentation of your video content has a big impact on whether people buy your product or not. Marketers are aware of this fact and that is why they are trying to make their videos as engaging as they can. When creating video content, their main focus is on improving user experience.
Video Content offers a much better user experience. When you present your products and services with beautiful visuals, with just the right background music and sounds along with an engaging voice over, you get a video content that is irresistible to anyone who comes across it.
Improved user experience also refers to the fact that you are providing your customers with accurate information and in the best way possible. It is a balanced combination of both these things that make your video content worthwhile.
3. Increasing The Number Of Channels For Video Content Marketing
Another reason why people are coming back to using video content for marketing is, it is just so easy to do that nowadays. Platforms like YouTube and Facebook, which were only being used for entertainment back in the day, are now proving to be a major platform for businesses for marketing their products.
Also read: Content Marketing: Pros And Cons For 2019
Social Media platforms like Facebook and Instagram have added video to content to their features. With Facebook's Facebook live feature, businesses can interact with their customers in real time. This and many similar video content posting platforms have made it much easier to create and use video content for digital marketing.
4. Better Optimization Opportunities
With video content, you get real-time response about the success of your content. You get quick results about the likes, shares, and even views of your video content. You can even break this down to the individual viewer level.
With such level of details, you can find out whether people are resonating with your content or not. If you are not getting the expected response then you can go on and change your approach. This level of flexibility offers you better opportunities for content optimization.
5. Video Content Offers Better Stay Time
If your video content is engaging enough, people would stay and watch it completely which gives your content and website a better dwelling time. One of the metrics for determining the success of an online business is the bounce rate. Which refers to the people who come to your website and immediately leave it because they just don't find it engaging enough. Video on the main landing page has proven to decrease the bounce rate for many websites.
An average web surfer has a short attention span. Video Content allows you to make the most out of that attention span by immediately engaging them towards your products and services.
6. Engages Customer In A More Intimate Way
Video Content allows you to communicate with your audience on a much deeper level. With video content, you show them your human side. This makes people believe that you are one of them which makes it easier for them to relate to your point.
The whole point of influencer marketing is about engaging customers in a more personal way. Moreover, video content is the most commonly used channel for that. When people watch a person that is a big influence for them talk to them about a certain topic of interest, people are more likely to respond to that.
7. Better Click Through And Conversion Rates
Video content can improve the conversion rates of a particular business quite a lot. It all depends on how well you pitch your ideas and engage the people watching that video. Once you can make them believe that your product is worth checking out, you have better chances of getting more conversions.
Research shows that video content performs about 80% better than other forms of content when it comes to converting prospective customers to actual customers.
Final Words:Over the years, Video content has become an essential part of every Content Marketing strategy. In fact, your marketing efforts are incomplete if you have no plans of adding video content to it. This doesn't mean that other forms of content has become obsolete, it just means that you have better chances of getting more results with video as compared with any other content type.